Pioneers in Cardiothoracic Surgery: Dr. Norman Shumway
Norman Edward Shumway M.D., Ph.D., Stanford University Frances and Charles Field Professor of Cardiovascular Surgery, Emeritus, was born February 9, 1923, in Kalamazoo, Michigan. His father ran a creamery. Shumway was quiet, witty, irreverent and intuitive about people and about what would and would not work. Despite his fame as the father of heart transplantation, he shunned publicity.
Shumway did not initially intend to become a physician, but instead, began studying law at the University of Michigan in 1941. Drafted into the U.S. Army in 1943, he was enrolled in a specialized pre-medical training program at Baylor University in Texas. He moved on to Tennessee's Vanderbilt University where he received his M.D. in 1949. His interest in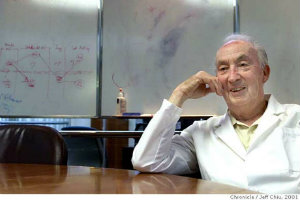 cardiac surgery was sparked during his internship and residency at the University of Minnesota under Walt Lillehei. He obtained a Ph.D. in cardiovascular surgery from that institution in 1956.
In 1958, he began working as an instructor in surgery at Stanford Hospital in San Francisco. When the hospital was moved to Palo Alto, Shumway had the opportunity to launch a cardiovascular program at a new, expanded campus. Over his years at Stanford, Shumway trained many promising young residents of cardiology and cardiothoracic surgery, a number who later moved on to head their own departments. A brilliant teacher, his approach was to step back and give his trainees major responsibility in the operating room. But first the trainees had to learn on animals. "The best arena for the training of good surgeons is the dog laboratory," Shumway once said.
In 1959, Shumway, along with Dr. Richard Lower, transplanted the heart of a dog into a 2-year-old mongrel. The mongrel lived for eight days, which proved that it was technically possible to transplant and keep a donated organ alive. For the next eight years, Dr. Shumway and his team worked at perfecting the techniques for transplantation. After dogs survived for a year with a new heart, the two researchers were ready to try it on human patients. The Stanford technique differed from earlier methods in that Shumway and Lower left a portion of the heart in place. It included parts of the walls of both upper chambers of the heart that received blood from the veins leading to the organ. This technique shortened the operating time because the surgeons had to suture only the heart tissue and arteries.
Using the techniques that Shumway and Lower developed, Dr. Christiaan Barnard performed the world's first heart transplant on Louis Washkansky in December 1967. The patient lived for 18 days. On Dec. 6, 1967, three days later, Dr. Adrian Kantrowitz performed a heart transplant on an infant at Maimonides Medical Center in Brooklyn. The infant died six and a half hours later. On Jan. 2, 1968, Barnard carried out his second heart transplant on Dr. Philip Blaiberg, who lived 19 months.
Shumway followed with his first landmark heart transplant on Jan. 6, 1968 in a steel worker who lived for 14 days. After a burst of enthusiasm during the next year when 100 heart transplants were performed, cardiac surgeons abandoned the procedure due to the high rate of post-surgical deaths. Societies called for a moratorium on the procedure.
Shumway, however, refused to give up. Over the next two decades with "radical perseverance," and amid considerable controversy, he returned to his laboratory to refine his operation which he continued to perform. His persistence and determination ultimately paid off with his introduction of the immunosuppressive drug cyclosporine in the late 1980s, which is still in use today. Shumway's team also went on to develop methods to preserve the heart so it could be carried between the donor's and recipient's hospitals.
In 1981, Shumway and Reitz performed the world's first successful combined heart-lung transplant. By the late 1980s, they were transplanting hearts into infants as well. By the time he retired in 1988, Dr. Norman Shumway had performed 800 heart transplants.
Since 1982, at least 64,000 human heart transplants have been performed at more than 250 hospitals around the world. About 2,100 heart transplants have been performed in the United States each year over the last decade.
Photo Credit: Norman E. Shumway. (2011). Jeff Chiu, Chronicle.