Profile of Excellence: Dr. D. Craig Miller
The Thelma and Henry Doelger Professor of Cardiovascular Surgery Stanford University 88th AATS President (2007-2008)
Dr. D. Craig Miller, the Thelma and Henry Doelger Professor of Cardiovascular Surgery at Stanford University, is, by his own admission, a cowboy and a maverick. He attributes his independent nature to growing up on cattle ranches owned and run by his physician father in northern California.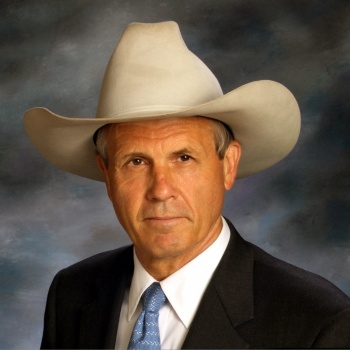 Dr. Miller reflects in a 2012 interview for the American Association of Thoracic Surgeons (AATS) 100th anniversary publication In the Words of the Presidents, "I really treasure what I learned working hard as a young boy on the ranches; that is where I became a cowboy, I guess. During the summer, my brother and I would disappear for weeks on horseback with a pack of mules to drive the cattle to the high country, something that teaches you self-reliance, independence, and resourcefulness. The work ethic seems to have stuck with me, but why the cowboy stuck, I have no ide
a. I guess that you can take the cowboy to the city, but you can't take the cowboy out of the boy."
During the interview, Dr. Miller also recalled having some amazing high school teachers who instilled in him a thirst for knowledge and learning. When he went east to college at Dartmouth University, he knew three languages and the Morse code. Back east though, he felt like a duck out of water and was happy to return to California to go to medical school at Stanford University. As good fortune had it, he has been at Stanford ever since.
As a medical student at Stanford which was already a center for cardiac innovation, Dr. Miller learned quickly that he was going to have to work very hard to make it there. In January, 1968, Dr. Norman Shumway's first heart transplantation in the United States made history and Dr. Miller got the bug to become a cardiac surgeon.
During his years at Stanford, Dr. Miller has run a successful research laboratory funded by two NIH RO1 grants in which he has primarily studied left ventricular mechanics and mitral value physiology. He lists more than 440 peer-reviewed publications in his bibliography.
Elected president of the American Association for Thoracic Surgeons in 2007, Dr. Miller decided that it was his mandate to suggest major changes in order to keep the cardiac thoracic specialty vibrant. He proudly resurrected the Joint Council on Thoracic Surgery Education to be a vehicle of innovation that would attract the best and the brightest.
Dr. Miller is adamant about his displeasure over the negative influence of money in medicine today. Although he calls himself a Genghis Khan, Barry Goldwater type of right wing Republican, he is convinced that the only solution for healthcare in America is to develop a single payer system, saying that almost one-half of every healthcare dollar is spent on "futile care, unnecessary procedures and third parties; the dollars are not being delivered as effective care."
At the conclusion of the 2012 interview, Dr. Miller expressed his philosophy, "Today is the last day of the rest of your life, and if you live today as if it's your last, you will live life to the fullest. You have to try now, you have to challenge dogma today and you can't be afraid to fail. Remembering, of course, if you don't laugh at yourself with great regularity, you're taking this world and yourself far too seriously."
Reference:
In the Words of the Presidents Edited by Marc R. Moon MD, American Association of Thoracic Surgeons 2017, Beverly, MA www.aats.org