Profile of Excellence: Dr. Joel D. Cooper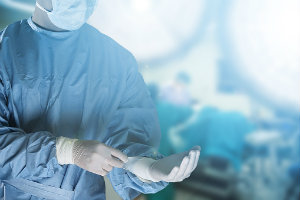 Dr. Joel D. Cooper, M.D. was born in Charleston, West Virginia, into a family of rabbis. Both his father and grandfather had been rabbis. Ever since he was a boy he liked to experiment with gadgets and set off trying to make explosives when he got his first chemistry set. His mother once told him that he would have been happy being a mechanic, but she was happy he became a doctor.
Cooper found his undergraduate years as a chemistry major at Harvard University difficult. That changed when he became a surgical resident at Massachusetts General Hospital. "It was a wonderful experience," he recalled. He remembers having great mentors and great role models from the residents up through the faculty at Mass General.
As a resident under the leadership of Dr. Hermes Grillo, the Mass General faculty were dedicated to teaching. One day Cooper discovered that he had been taken off the cardiac service because he had hepatitis. Instead, he was sent to pathology to do autopsies. He was charged with investigating why so many patients developed a tracheal stenosis six to eight weeks after being taken off a ventilator, or having had a tracheostomy or endotracheal tube. Through his research, he discovered that high pressure caused the cuffs to become rigid which, in turn, would stretch the trachea and cause post-procedure damage. Through collaboration with Grillo, the pair developed a low-pressure cuff that reduced post-intubation tracheal stenosis.
Cooper consequently became a great champion of combining surgical training with research. "It's a way of thinking scientifically, a way of differentiating what's real from what's apparent, a way to learn problem solving, and a way to read the literature and identify pitfalls."
After a stint at hospitals in England and completion of his residency in Boston, Cooper joined the Toronto faculty of Dr. Griff Pearson, a pioneer in thoracic surgery, who became another great mentor and friend. After several unsuccessful attempts to transplant a lung during in the late 1970s, Cooper became fascinated with lung transplantation and conducted several years of research before he felt ready to perform a lung transplant on a human patient. In 1983, Tom Hall became the world's first successful lung transplant recipient.
During his career in chief positions in Toronto, St. Louis and Philadelphia, Cooper's intention was to develop a culture of cooperation and collegiality where each surgeon would participate in another's success. He feels that the secret to achieving this is to share caseloads where everyone carries one's own weight. Unfortunately, he now sees the current emphasis on the bottom line undermining the education, research and development of specialty interests that are critical in building strong academic centers. As the AATS president in 2003-2004, Cooper challenged his colleagues, "We are obligated to inspire and encourage our successors," he said, as he had been by his.
Reference: In the Words of the Presidents, Marc R. Moon, MD, 2017 American Association for Thoracic Surgery, Beverly, MA 01915