Profile of Excellence: Lawrence H. Cohn, M.D.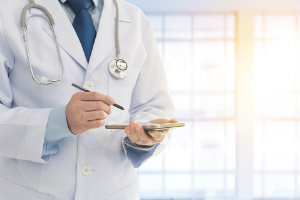 Born in San Francisco in 1937, Dr. Lawrence H. Cohn came into a family where his businessman father imbued him with a strong work ethic while his concert pianist mother made it known that she had high expectations for her children.
When Cohn was 12 years old, he went to work part-time for his father and continued until he was 24 years old. He recalled spending hot summers unloading railroad cars of sheetrock with often illiterate workers of many ethnicities and religions. That life experience was invaluable because it taught him how to communicate with all kinds of people from every walk of life.
Following graduation from Lowell High School where he was editor of the school newspaper and active in sports, he went to the University of California (UC) Berkeley for undergraduate work and then to Stanford University Medical School for his Doctor of Medicine. Graduate medical training was at Boston City Hospital/Harvard, the NIH and UC San Francisco where he had an enormous exposure to vascular surgery under his mentor Dr. Jack Wiley. Then he returned to Stanford where he trained with pioneering heart surgeon, Dr. Norman E. Shumway.
Earlier when he had first approached Shumway about becoming a surgeon, Shumway let Cohn scrub and put his finger inside a heart during a closed mitral procedure. Cohn was hooked and didn't go home for seven days, for there was always another interesting patient he wanted to help. After training with Shumway, Cohn was invited to Harvard to bring Shumway's successful cardiac surgery approaches along with him.
At Harvard, he served as Assistant Professor of Surgery from 1971 to 1975, Associate Professor of Surgery from 1975 to 1980, Professor of Surgery since 1980, and was awarded the first endowed Virginia and James Hubbard Chair in Cardiac Surgery in 2000. He performed over 11,000 cardiac operations, and became an expert in the field of heart valve repair and replacement surgery and minimally invasive heart valve surgery.
Cohn was also a pioneering educator. He trained more than 150 residents and fellows at the Brigham and Women's Hospital/Children's Hospital Medical Center Cardiothoracic Surgery Residency Training Program. When, as the organization's president, Cohn addressed AATS 1999, he outlined 11 qualities he felt were important for a surgeon, one of the most important being persistence to accomplish your goals. The others were: be an excellent surgeon a physiologist, a teacher, a leader, be knowledgeable about the economics of health care, be versed in digital technology, be knowledgeable, if not expert, about advances in new surgical technology, be adaptable, have a good sense of the history of the specialty, and above all, be a humanist.
Reference: In the Words of the Presidents, Marc R. Moon, MD, 2017 American Association for Thoracic Surgery, Beverly, MA 01915