4 Ways Physicians Can Reduce Task Time on EHRs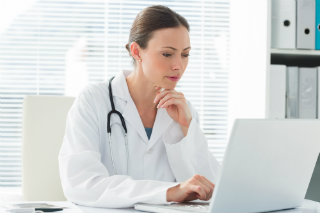 Technology can have many benefits. It can shorten the time spent on tasks, make finding information easier and make communication easier.
But when it comes to the use of electronic health records (EHRs), many physicians aren't feeling the benefits. That's because physicians are spending more time updating and responding to EHR requests than actually diagnosing patients, according to a recent Annals of Internal Medicine study.
That study found physicians spent nearly half — 49 percent — of their days doing EHR and desk work and only 27 percent of their shift with patients. And after the office day, some physicians reported spending another one to two hours at night updating EHRs. The authors concluded that every hour spent with a patient resulted in an additional two hours of EHR work.
Another study by Deloitte found that seven out of 10 doctors felt EHRs reduced their productivity.
With all the extra time spent completing EHR tasks, it's no wonder more and more physicians are feeling burned out.
If you find yourself bogged down by EHR needs, read on. Here are four ways to reduce task time on EHRs.
Get enough training: Have you ever gotten a new phone and found it took you a few days to get used to it? That's because the technology is new to you. The same idea applies to EHRs. Sufficient training helps you quickly learn how the technology works, which can make a difference in your productivity.
Practice workflows: EHR systems can have up to 200 functions. During a training session, encourage your facility to offer the option of simulated environments and patient scenarios. These simulated options can allow you to get to know what functions are most commonly used to place an order for a patient or respond to a request.
Take advantage of templates: Many EHR systems have built-in functions and features that can help reduce time spent on certain activities. Take time to think about the activities you do most often and see if any features can help expedite these processes.
Try entering documentation during patient visits: Entering information into your EHRs while in the room with the patient can help reduce the amount of time spent on these tasks at the end of the day. Healthcare Dive recommends mastering the ability to use the system while still interacting with and keeping the focus on the patient.
Changes to EHRs
Doctors surveyed in the Deloitte study above noted some changes they'd like to see in EHRs. The most commonly requested were:
Interoperability
Improved workflow
Increased productivity
Like any technology, EHRs will improve with time and feedback. Being involved with your facility's use of EHRs can help shape process improvements and how your colleagues and organization uses them.