Resident Physicians Experience Patient Bias
A study in JAMA found that nearly every resident experiences patient bias, but how this occurs and what forms it takes varies.
The study authors followed 232 medical residents from three academic medical centers in California and North Carolina. Patient bias occurs when patients encounter a physician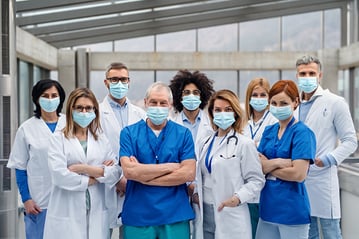 whose race, gender identity or ethnicity is not compatible with what they think a competent or appropriate healthcare professional should be.
What Kind of Bias do Resident Physicians Experience?
When someone has a physician who they deem incompetent or inappropriate based on that physician's social identity, the patient usually responds with things like offensive remarks to outright refusal of care.
Among survey respondents, 98% reported they either experienced or witnessed patient bias in the past year.
As you can imagine, experiencing this kind of treatment can exact a psychological toll on residents.
Here's what different residents experienced:
96% of female residents encountered role questioning behavior compared to just 42% of male residents
99% of residents identifying as Asian experienced inquiries into their ethnic origin. They also reported being confused with other team members of the same race or ethnicity.
Refusals of care or requests for a new physician were common among Black or Latino residents.
Resident Response to Bias
When experiencing or witnessing bias, only 32% of residents said they were confident or very confident in responding to patients. Most residents said more training was necessary to equip them with the skills needed for addressing and responding to patient bias.
81% of residents reported receiving 2 hours or less of training on the subject. While 72% of residents reported receiving training on responding and addressing patient bias in medical school, 74% said that training was below adequate.
So, how do residents deal with patient bias? Most commonly, they vented with friends or colleagues — 34% had debriefing incidents with team members, while 35% had debriefing incidents with family or friends.
Interestingly, more proactive measures like reporting the behavior or switching the patient to a different team were rarely used by residents.
What can Organizations Do?
Rhonda G. Acholonu, MD, and Suzette O. Oyeku, MD, MPH, wrote a commentary on the study in JAMA that states:
"Microaggressions, bias, and discrimination in academia must be addressed to truly create a diverse, equitable, and inclusive environment that fosters organizational excellence. To achieve this goal, organizations will need (1) leadership accountability, (2) committed resources, and (3) "an evidence-based, data-driven, and transparent approach to evaluation and reporting."8 As Marc Nivet, EdD, MBA, the former chief diversity officer at the Association of American Medical Colleges, has stated, diversity should be seen as a solution as opposed to a problem.9 Leaders of academic medical centers need to prioritize and encourage all team members to consider issues of DEI across strategic areas. Strategic and principled investments in these efforts can lead to greater organizational health, innovative solutions, and, ultimately, exceptional financial and operational outcomes."