Social Media Risks Doctors Should Know
Social media can have many benefits for physicians: enhancing professional development, allowing them to reach potential patients, expanding their practice and sharing their expertise. But along with the benefits, also come risks. Take the story of Dr. Nicole Baldwin.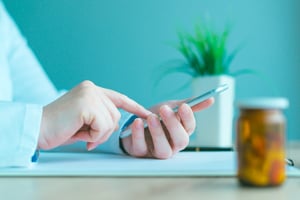 Dr. Baldwin saw her online reputation tank — and even received death threats — after she shared a TikTok video in which she advocated for vaccination.
And while the explosion of social media will become part of modern medicine, stories like Dr. Baldwin's are not uncommon. A physician's online presence can take a hit for a variety of reasons. If you're considering using social media or already have an online presence, here's what you should consider to lower your risk of negative impacts.
Be aware of virality
A hospital in St. Louis received backlash after an OBGYN posted to social media her frustration with a chronically late patient. Someone shared the doctor's post to their hospital Facebook page, which caused an outcry.
Be aware of patient privacy restrictions
Social media can make it easier to inadvertently violate a patient's privacy. Examples that have led to trouble include crowdsourcing for a diagnosis, highlighting patient cases on your website or sharing photos with a patient's face or identifying information.
Be aware of what you post
While you may take care to avoid sharing patient information on social media, something as simple as venting about a hard day can backfire (as is the case from the St. Louis OBGYN above.) Not only that, sharing content of a sensitive nature, like political views, can negatively impact your professional image.
According to researchers, information from social media can also be used to make hiring decisions as well.
Be aware of overlap
Many physicians have two social media accounts — one for their professional use, and the other for their private account. However, researchers note, despite your best efforts to keep them separated, personal and professional contacts can overlap.
Be aware of your employer's social media policies
You've taken note of the above tips, but you can still find yourself in hot water with social media use if you violate one of your employer's social media policies. Some employers have policies that state they can retain the right to take control of your social media activities while on-premises, while some have policies for how you can present material on social networks.
Benefits of Social Media
Though there are risks associated with physicians using social media, there are also several benefits. Researchers note that social media usage has the potential to improve communication with patients, allowing them to hyperfocus their messaging.
"Unlike traditional health advice a patient might encounter online, doctors, knowing their patient base, could develop messaging that was comparatively more culturally competent and 'local,' and therefore more likely to resonate and be acted upon," they wrote.
Social media can also be used for professional development. In addition to the standard social media platforms like Facebook, Twitter and LinkedIn, there are sites like Doximity and iMedExchange specifically geared to doctors and healthcare professionals. These sites can give you the opportunity to learn from your peers, discuss clinical issues and more.
Whether you work for an organization that has in-depth social media policies or not, keeping the above common mistakes in mind before you post can help safeguard your reputation.