Surgical Checklists Updates: 4 New Risk Areas from the ACS
It's been 10 years since the World Health Organization (WHO) released its surgical care checklist tools to help improve outcomes and decrease postoperative mortality rate. Now, the checklists are receiving a few updates.
The WHO first introduced the checklist approach in 2009 after a study published in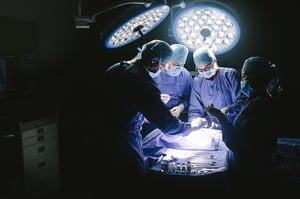 the New England Journal of Medicine reported a 29-item checklist cut postoperative complications by an average of 36% and decreased mortality by an average of 47%.
Now, the American College of Surgeons (ACS) Strong for Surgery program (S4S) is adding four new surgical safety checklists that target common risk areas.
New Surgical Checklists: 4 Risk Areas
To help surgical teams spot signs of surgical complications and intervene more quickly, the ACS added the following four pre-op and post-op risk areas to its checklists:
Delirium: Delirium is often associated with functional decline, extended hospitalization, higher costs and an increased risk of mortality. Alcohol abuse, age and reduced cognitive or physical functioning can put patients at a higher risk of postoperative delirium.
Prehabilitation: Without proper rehabilitation, patients are at an increased risk of surgery-related morbidity, longer hospital stays and readmissions. Focusing on cognitive function, gait, balance and nutrition before surgery can help improve postoperative function.

Pain Management: Ineffective pain management can lead to poor postoperative function, increased hospitalization, increased readmission rates and more outpatient visits. Conducting pre-surgery counseling and setting realistic expectations about the postsurgical experience can help reduce the risk of pain management issues.

Patient Directives: A lack of thorough patient education can lead to presurgery anxiety and a poor post-surgery experience. Discussing topics such as post-procedure pain, risks and financial burdens can help patients feel more supported before and after surgery.
How to Use Checklists Effectively
Since its release, the screening checklist approach has been met with occasional skepticism. Dr. Atul Gawande's address at the annual clinical congress of the American College of Surgeons, identified such resistance as more of a cultural issue:
"It's a challenge in a fundamental way, to our values," said Dr. Gawande, as reported by the ACS Surgery News. "What we have valued in our life as surgeons is our autonomy as clinicians, and here was an approach which required you to work with different values: humility, discipline, teamwork."
Many surgical teams are open-minded and the adoption of these checklists are proving beneficial; however implementing a checklist alone is not enough.
To substantially improve outcomes, healthcare organizations must also embrace teamwork, cooperation and, most importantly, effective communication. When a care team is aligned, a checklist can provide life-saving value.
By focusing on improving your healthcare organization's culture and making sure you and your team are properly communicating during critical preoperative and postoperative moments, you will likely see much higher success with your checklist approach.