Study: Surgical Residents Can Safely Work Longer Shifts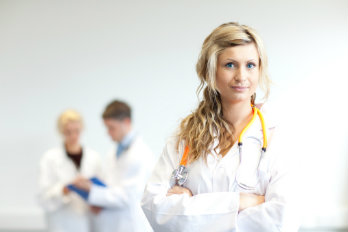 Are sleep-deprived surgical residents more likely to make serious medical errors? According to the Accreditation Council for Graduate Medical Education (ACGME) they were, and as a result, the council implemented changes in 2003 limiting the number of hours residents can work per week and increasing the amount of time off between 24-hour shifts.
However, those work restrictions may soon be a thing of the past thanks to new research published in the New England Journal of Medicine. Researchers wanted to discover if loosening the 80-hour workweek restriction and time off between 24-hour shifts had any effect on patient outcomes. What they found was surprising.
No Difference
Patient safety outcomes stayed the same with both work-hour policies. Less-restrictive work-hour policies were not associated with an increased risk of patient death or serious complications.
"The risk of death or serious complications did not differ significantly between patients who underwent surgery in hospitals affiliated with programs assigned to flexible, less-restrictive duty-hour policies and those who underwent surgery in standard-policy hospitals," the researchers wrote.
Resident Well-being
It would seem the residents participating in a study that doesn't limit their time at the hospital (versus those at hospitals abiding by the ACGME regulations) would be more unhappy and feel overworked.
As with the above findings on patient outcomes, researchers found residents in hospitals where there were no restrictions on work hours had a more positive view of those policies and how they affected patient safety, acquiring clinical skills, the ability to attend conferences and the relationship between interns and residents than those residents who worked standard-policy hours.
What did take a hit, however, was how the flexible work-hours program affected residents' time away from the hospital. They saw the program as negatively affecting their rest, health, time for case preparation and time spent with family or enjoying hobbies or activities due to working a greater amount of hours.
The researchers pointed out that despite the effects on time away from the hospital, residents in flexible work-hour programs were pleased with the education they received and patient care provided.
"Flexible-policy residents did not report less satisfaction with their overall resident education, and they did not perceive that fatigue affected their personal safety or patient safety," researchers said. "There was also no significant difference in satisfaction with duty-hour policies between the study groups. These results suggest that residents found that flexible duty-hour policies improved multiple aspects of patient care and resident education without an appreciable difference in their personal safety, but these benefits came with the recognition that the flexible policies affected time for personal activities and certain aspects of well-being."
Critics of the study, however, argue the study would not find a significant difference in patient outcomes because most elements of patient care remained the same.
What the Results Mean for Surgical Residency Programs
While the results of the study indicate no adverse effects on patient care and outcomes for those residents who work unregulated hours, Dr. John Birkmeyer, chief academic officer at Dartmouth-Hitchcock, a health system in New Hampshire, suggests that instead of implementing new hours, surgical leaders should focus on preventing resident burnout.
"... Focus on developing safe, resilient health systems that do not depend on overworked resident physicians. They should also recognize the changing expectations of post-millennial learners. To many current residents and medical students, 80-hour (or even 72-hour) workweeks and 24-hour shifts probably seem long enough. Although few surgical residents would ever acknowledge this publicly, I'm sure that many love to hear, 'We can take care of this case without you. Go home, see your family, and come in fresh tomorrow,' " he writes in an editorial about the study.