Technology Trends Impacting Cardiothoracic Surgery You Need to Know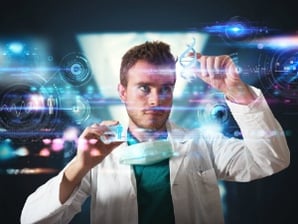 Cardiothoracic surgery, Twitter chats and website design may not seem like the perfect combination, but when it comes to accessing the latest journal articles, connecting with patients and expanding your practice, they can be invaluable.
At the 2016 STS Annual Meeting, a panel of cardiothoracic experts shared how these and other internet technology trends are impacting cardiothoracic surgery.
Here are three technology trends impacting cardiothoracic surgery you need to know:
1. The Thoracic Surgery Social Media Network (TSSMN)
A collaborative effort between the Annals of Thoracic Surgery and the Journal of Thoracic and Cardiovascular Surgery, the TSSMN, brings scholarly articles to Twitter and enables surgeons and other thoracic medicine professionals to participate in real-time discussions about them.
"It's a lot of fun to find an article, read it, and be able to share that immediately with hundreds if not thousands of people on the internet," explains Dr. Edward Bender.
Because of Twitter, Dr. Bender says, people who wouldn't normally see these articles have been able to read them and provide valuable input for colleagues.
"We get responses from pulmonologists, from cardiologists, it expands the number of eyes that fall on a particular journal article," he says.
The TSSMN holds Twitter chats on adult cardiac, congenital and thoracic surgery. Stay up to date and participate in chats by following the hashtags:
2. Social media for patient engagement
The success of Twitter chats — on various topics — has led some physicians to create chats about conditions targeted toward patients. One such chat that focuses on lung cancer — the Lung Cancer Social Media Chat — was created by Dr. David Cooke together with a lung cancer survivor and two lung cancer advocates.
"The goal is to use Twitter to end lung cancer stigma," explains Dr. Cooke. "But also to help deliver evidence-based information and other resources for lung cancer patients."
To engage with patients, Dr. Cooke and his fellow co-founders hold Twitter chats every other Thursday. Topics range from clinical to patient-centered.
Using social media to connect with patients can expand beyond Twitter chats.
"The patients aren't necessarily interested in reading full articles in the journals," Dr. Mara Antonoff says of the content shared on TSSMN. "But at the same time, some of these discussions actually do become interesting to the patients who may just be looking for the punchline of the journal article."
3. Websites for patient engagement
"It should not be forgotten that you can create and mold your persona in the public's eye, and that can be done most effectively these days through internet marketing and use of an effective website," explains Dr. Christopher Seder.
According to the panel, there are four steps to follow in order to create an effective website:
Search Engine Optimization (SEO): It's important, Dr. Seder says, that patients can find information about you and your website when they search a condition and location. For example, 'heart bypass surgery, Detroit.'
Have High-Quality, Original Content: A good rule of thumb, says Dr. Seder, is to have one piece of self-promotional content for every nine pieces of informational, educational content.
Create a Superb User Experience: The site user experience, if done well, says Seder, allows you to emotionally connect with the patient. In addition, your staff should quickly respond — within hours — to any patient or potential patient who fills out a form on your site. "If you wait days, you've lost that patient," Dr. Seder says.
Ensure Your Site Reflects the Branding of Your Institution: Your site can be optimized, have a fantastic user experience and provide valuable information, but it could all be wasted if you fail to consider the branding of your institution. "It needs to fit the style and brand of your host institution or your host institution will take down your website," says Dr. Cooke.
Twitter is useful for much more than keeping up with current events. The social media platform, combined with a good website and medical expertise, can help you connect with colleagues and potential patients. It can also help you expand existing relationships with patients, helping you to become even more trustworthy as a resource.