Telehealth After COVID-19: What to Know
Telehealth accounted for $3 billion before the coronavirus shut down the country, according to McKinsey & Company Health Care Systems & Services. Now, as a result of COVID-19, physicians are seeing 50 to 175 times more patients via telehealth than they did before the outbreak.
Here's a look at some of the interesting statistics from McKinsey & Company Health Care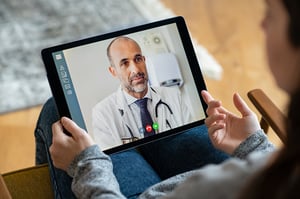 Systems & Services' "Telehealth: A quarter-trillion-dollar post-COVID-19 reality?" report.
A rapid increase in use: Not surprisingly, the use of telehealth among consumers has skyrocketed as many patients have turned to the technology to replace canceled in-person visits. In 2019, 11% of patients used telehealth. In 2020, that number increased to 46%.
Now, due to the widespread adoption of telehealth, McKinsey estimates that up to $250 billion of current U.S. healthcare spending could be virtualized.
This will require new ways of working for providers as well as improvements in information exchange, the report authors write.
A surge in interest: The cancellation of most in-person medical appointments has led to the wider adoption of telehealth. Now, McKinsey estimates that going forward, up to 76% of consumers are interested in using telehealth and 74% of patients who used telehealth during the outbreak noted high levels of satisfaction with the experience.
Patients aren't the only ones whose interest in telehealth has changed. Physicians and other healthcare providers have changed their view of the technology, with 57% viewing telehealth more favorably than before COVID-19 and 64% being more comfortable using it.
What the future looks like: McKinsey estimates that:
20% of all emergency department visits could be diverted to virtual urgent care settings
24% of healthcare office visits could be done virtually
35% of home healthcare attendant services could be done virtually
2% of medication administration visits could be done with tech-enabled medication administration.
Telehealth can increase access to care, especially in rural areas with shortages, and has the potential to improve outcomes.
"Fundamentally, the integration of fully virtual and near-virtual health solutions brings care closer to home, increasing the convenience for patients to access care when they need it and the likelihood that they will take the right steps to manage their care," study authors write.
What Providers Should Do Going Forward
Accelerate the development of a consumer-integrated "front-door": Think about what your integrated telehealth product will cover beyond what you currently have. Will you use or need triage, scheduling or records access?
Segment patient populations and specialties: Consider those patients with chronic diseases or needs whose virtual interactions could be scaled with home-based diagnostics and equipment.
Quantify clinical outcomes: This helps you measure the value of care and also measure patient and provider satisfaction. Don't forget to "include the potential value from telehealth when contracting with payers for risk models to manage chronic patients."