The Rise in Telehealth and What it Means for Physician Training
The recent spike in telehealth usage may be a response to the pandemic, but the concept is not necessarily new. Even before the COVID-19 crisis, medical schools offered some training in patient-physician interactions via telehealth as a part of their curriculum. But after leaving school, not many physicians were putting those virtual skills to work — at least, not at first. Before the pandemic, less than 1% of physician-patient encounters were conducted via telehealth, according to the American Medical Association (AMA).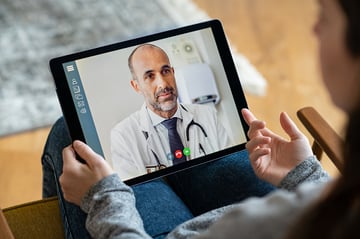 As soon as the pandemic forced lockdowns and shelter-in-place orders, physicians needed to find a new and workable solution for providing their patients access to care while reducing contact. And now that everyone has experienced its myriad benefits, we doubt it's going anywhere anytime soon.
Telehealth is Part of the "New Normal"
Telehealth is convenient and accessible, making it the perfect solution for those in long-term care facilities, people managing chronic conditions, and patients living in rural and medically underserved communities. It can increase access to urgent care and primary care, as well as facilitate improved communication and collaboration with dialysis centers and specialty providers.
But, it's also become popular among busy adults for whom a 15-minute virtual check-up is much less disruptive than commuting to and from a local hospital or doctor's office.
While much of the telehealthcare that has evolved since last year was a "baptism by fire" borne amid a crisis, many healthcare organizations have recognized the need to provide this service permanently. And to do this effectively, they need to ensure everyone is adequately trained.
Since the pandemic, 60% to 90% of doctors rely on some form of telehealth services, according to data shared by the AMA, but only about half of them have any prior experience in virtual care. So what's the next step?
Training Physicians for a Virtual-First World
Although most physicians hone their bedside manner through face-to-face doctor-patient interactions, virtual visits are a bit different. And as anyone who has spent the last year communicating via video calls can attest, verbal and non-verbal communication in the virtual space can be challenging.

Occasionally you have to grapple with technical issues, and for many people — particularly older patients who aren't as accustomed to video conferencing — discussing their health concerns through a screen can feel awkward. It's up to physicians to overcome these hurdles, and that takes training.
Luckily, medical schools are ramping up training for telehealth and recognizing this space as a significant part of the future of medicine. What was once considered an elective in medical school curricula is now recognized as an urgent need and a core course of study for future physicians. The next generation of doctors is adapting rapidly.

As for doctors already in practice, many healthcare systems offer seminars to help physicians improve their digital skills and hone their virtual bedside manner. And while investing in additional training can be a budget item some organizations are wary of adding, boosting these proficiencies can help improve patient satisfaction.

After all, as Seema Verma, U.S. health policy consultant and former administrator for the Centers for Medicare and Medicaid Services, said in an article for Fortune, "The genie is out of the bottle when it comes to telehealth," and there's no putting it back.