U.S. Spending on Healthcare: What's Changed Over the Past Year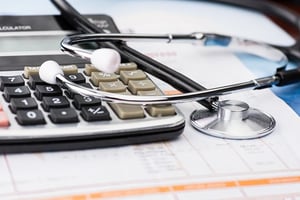 The growth in healthcare spending slowed over the past two years, according to a report from the Centers for Medicare & Medicaid Services (CMS) released at the end of 2018.
Total U.S. spending on healthcare grew 3.9 percent in 2017 and 4.8 percent in 2016. This decline comes on the heels of two years of relatively fast growth of 5.3 percent in 2014 and 5.8 percent in 2015.
Although the declining growth rate has some analysts ringing the alarm bells and others celebrating, it's important to consider some key factors impacting this change.
Here are three reasons the growth in U.S. spending on healthcare has slowed:
Nominal GDP Increase
Part of the reason annual growth has slowed is just simple math. The U.S. gross domestic product (GDP) increased by 4.2 percent in 2017, which is up from a 2.7 percent increase in 2016, but the economic share for healthcare stabilized in 2017 at 17.9 percent, according to an article in the AJMC (American Journal of Managed Care). Previously, healthcare spending has grown faster than the economy, whereas in 2017, it grew at about the same rate.
Affordable Care Act Expansion
One of the primary factors that drove the rapid growth of U.S. healthcare public and private spending in 2014 and 2015 was the Affordable Care Act (ACA). Although it was signed into law in 2010, the main provisions for expanding private insurance coverage didn't take effect until 2014 and triggered an immediate spending increase. Additionally, Medicaid spending increased 11 percent in 2014 but has slowed in each year since.
Prescription Drug Spending
While spending on pharmaceuticals grew in 2017, the growth was the slowest since 2012. According to a report released by the Trump administration, this is primarily due to a decline in prices for generic drugs, smaller price increases for brand-name drugs and fewer pain medication prescriptions.
Healthcare spending has slowed across all industry products and services, including hospital care, professional services, home healthcare, nursing care facilities, prescription drugs, durable medical equipment, nondurable medical products and other health, residential and personal care. However, hospital spending, which makes up one-third of the total national health expenditure, grew the fastest in 2017 (4.6 percent), though this was still a drop from 2016 (5.6 percent).
Despite the slower growth in 2015 and 2016, health spending is projected to have risen 5.3 percent in 2018, according to Reuters. The official numbers will be released later this year.