What Keeps Hospital Execs Up at Night: 5 Things to Know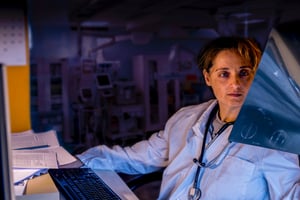 Hospital executives may be having trouble sleeping lately due to the ever-changing complexities of our healthcare system. Despite this, administrators can still implement systems that help their facility's cost-effectiveness and provide optimal patient care. What keeps hospital execs up at night? Here are five concerns.
1. Engaging Physicians in Reducing Clinical Variations
The Advisory Board Company's 2016 Annual Health Care CEO Survey found that 53% of hospital executives were most concerned about engaging physicians in reducing clinical variations. The Institute of Medicine estimates that $265 billion (30%) of healthcare spending is waste that directly results from clinical variation.
The key to getting physicians engaged is hard data, says Nancy Lakier, RN, CEO of Novia Strategies,
"When physicians look at solid risk-adjusted data...we find they very quickly use this information to improve the care they provide for their patients."
2. Old Technology That Wastes Millions
Even though EMRs have gained traction, the fax machine is still widely used by hospital and healthcare service providers. Out of 30 billion healthcare transactions a year, 50% are faxes at $8 a transaction. Using fax machines, especially outdated ones, as well as legacy EMR systems and HL7 interfaces tend to drive up costs due to poor latency or missing information. Smart hospital execs are looking hard at fax machine use, and taking steps to move away from this technological money pit.
3. Inefficient Referral Systems
The annual average for referral leakage is between 55 and 65%, resulting in an average loss of $821,000 to $971,000 per hospital physician per year. Additionally, 63% of referring physicians are dissatisfied with the current referral system due to lack of information in the referral letter and the timeliness of that information. A large percentage of physicians remain unaware whether their patient has seen a specialist, and specialists are dissatisfied with the referral information they receive from a primary care provider (PCP).
Holes in the referral system ultimately lead to inadequate patient care because of delayed diagnosis, unnecessary testing and medications, and poor continuity of care.
4. Costly and Deadly Administrative Mistakes
The Journal of Patient Safety found that 400,000 patients lose their lives to preventable medical errors, making it the No. 3 killer after heart disease and cancer. Hospitals also suffer from 30% of tests being reordered due to lost test results, and the same percentage applies to lost patient charts. Searching for each misfiled document costs about $120 in labor, and $220 to recreate the document.
The issue of transferring patients between caregivers has become critical, as there are often gaps in information and communication that lead to delay of care, inappropriate treatment, patient harm, and increased length of stay.
5. Cuts in Government Funding
Medicaid funding has come under scrutiny in the past several months. The Congressional Budget Office estimates that the new healthcare budget proposal would slash Medicaid spending by as much as a third over the next decade. If passed, the new healthcare plan would rely on block grants given yearly to each state. Administrators are watching the new proposal closely, as many hospitals picked up new Medicaid patients who previously did not have insurance. The American Hospital Association has advocated for continued patient coverage.
While the list of healthcare priorities is overwhelming, smart hospital executives determine the changes that would best benefit their specific facility and patients. Sustainable change is possible if physicians and patients are shown that the least wasteful option is the better one. Focus on attainable goals to achieve a more robust ROI, high-quality patient care and a restful night's sleep.