What to Know About Cyber Liability Insurance
Cybercrime is ballooning out of control. In 2020, malware attacks increased by a shocking 358%, according to Help Net Security. Additionally, Google has registered more than 2.1 million phishing sites as of January 2021, according to data shared by Forbes.

For healthcare organizations, these increasing threats are especially chilling. At the very least, a breach of healthcare records is bad PR for your practice — but it could also destroy your business for good.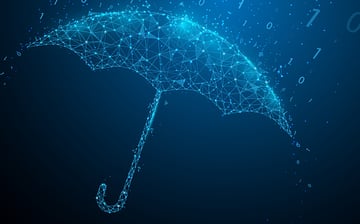 In short, protecting your practice isn't just smart; it's vital to your future. But how do data breaches affect practices, and how can you cover yourself?
How Data Breaches Affect Medical Practices
A data breach where criminals gain access to social security numbers, bank and credit card information, and health records can lead to third-party claims, accusations of medical malpractice, and lawsuits that could destroy your healthcare practice.
These breaches and hacks — often due to human error, negligence, and deliberate vandalism — can cause irreparable data loss. And it's up to you to ensure sensitive data doesn't fall into the wrong hands.
How to Protect Your Practice from Data Breaches and Cybercrime
So, what can you do to protect your sensitive data? Cyber liability insurance covers losses and damage resulting from an attack in which patient information is stolen and exposed, held for ransom, or otherwise shared. This form of insurance covers deliberate breaches such as hacking, malware, ransomware, and accidental exposure resulting from human error.
Cyber liability insurance policies provide an assortment of coverage options and may include a deductible which must be met before some protections apply.
What Does My Cyber Liability Insurance Policy Cover?
Depending on the type of policy you choose, your cyber liability insurance could include first-party and third-party coverage. First-party coverage includes out-of-pocket expenses your practice incurs as a result of the breach, while third-party coverage applies to damages or lawsuit settlements a practice is obligated to pay for failure to act or negligence.
When you invest in cyber liability insurance, you should expect your policy to help you recover from an attack or data breach — no matter how minor or catastrophic the outcome. Depending on the plan, this insurance covers practically any loss or expense resulting from the breach, including:
Payment of regulatory fines and penalties
Compensation for loss of income due to office closure or lost patients
Hiring of a public-relations specialist to handle negative press
Hiring a security professional to assess and "repair" the breach
Setting up a call center to field patient inquiries and concerns
Retaining attorneys to represent your practice in patient lawsuits
Payment of ransom in the event of hijacked data
While some malpractice or business policies provide a limited (typically up to $30,000) amount of coverage in damages, there are certain exemptions. It's crucial you understand your current insurance coverage and how it extends to cyber risk protection.
What Cyber Liability Insurance Doesn't Cover
As with any insurance policy, cyber liability excludes certain claims. Typical exclusions are:
War and acts of terrorism
Attempts at dishonest and fraudulent acts committed by the insured
Power failure or other utility failure
Bodily injury or damage to property
Any breach occurring prior to the policy's retroactive date
Is Cyber Liability Insurance Really Necessary?
Given the amount of sensitive and valuable information healthcare practices store, they're popular targets for cybercriminals. In fact, 83% of physicians reported experiencing some level of cyberattack, according to data shared by AMA.
Furthermore, cybercriminals can obtain a wealth of information simply by accessing patient records and, once it's shared on the dark web, it can fall into the hands of an entire community of hackers.

From small practices in rural areas to huge healthcare systems in major cities, everyone is a potential target of cybercrime. And while cyber liability insurance can't stop criminals, it can help you pick up the pieces should your practice become the next victim.