What to Know About Non-Compete Clauses
For the first time, employed physicians outnumber self-employed doctors, according to the American Medical Association. And while there are numerous advantages to becoming an employee — such as the security, insurance coverage, and other benefits and perks — one potential drawback comes in the form of an unpopular contract stipulation: non-competition clauses.
What is a non-compete clause and how can it hurt or help you in your career?
What is a Non-Compete Clause?
A non-compete clause is a contract provision that prevents a party from competing with the other party by working in the same field and/or geographic area. In most cases, a non-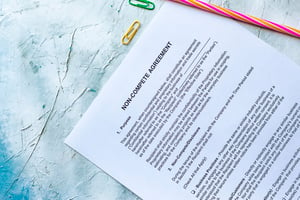 compete exists for the entire duration of the working relationship, and usually for a period of time afterward.
When it comes to physician employment contracts, a non-compete usually prevents physicians from practicing medicine at other hospitals or clinics in the same geographic area both during and for a period after their employment ends.
If you breach a non-compete rule in your employment contract, your employer will typically take legal action — starting with prohibiting you from continuing your competing role and often also seeking payment for monetary damages.


What to Consider When Evaluating Non-Compete Clauses
In most cases, employers create non-compete provisions to protect their businesses from so-called unfair competition. But sometimes these clauses are too broad, and can severely impact your career in the event you're terminated or decide to leave your employer for any reason.
Here are a few things to keep in mind:
SpecializationConsider whether your contract will prevent you from practicing in one particular area, or all types of medicine. For example, if a clinic specializes in nephrology, a court would likely question whether it's acceptable to prevent a formerly employed physician from practicing in other areas of medicine.


Geographic LocationSome non-compete clauses are only enforceable within a certain radius. For example, your employment contract may forbid you from practicing within a 25-mile radius, but anything beyond that is fair game. (Keep in mind this may mean leaving behind patients with whom you've built a rapport.)


Telemedicine
As telemedicine grows in popularity, largely due to the growing physician shortage, many doctors are offering their services to these providers as a side job. However, some non-competes explicitly forbid employees from practicing telemedicine.
Remember, it's advisable to understand and negotiate employment terms, including a non-compete provision, before you sign the dotted line. If you find something confusing or specific verbiage makes you uncomfortable, always ask your employer for clarification. Additionally, before you sign an employment contract, always take the time to review it with a lawyer.