What to Know About Physician Retention During COVID
Nearly all healthcare providers face burnout at some point in their careers — usually attributed to job stress, long shifts, and little downtime. But, for physicians on the front lines of a global pandemic raging out of control for more than a year, burnout is worse than ever.
Unsurprisingly, the pandemic has prompted a large number of physicians to make significant changes to their careers. Some are choosing to retire early, some are moving to other organizations, and some are leaving medicine altogether.


The Threat of Losing Physicians
Recent findings predict a mass exit of quality physicians in the coming months — and hospitals are unprepared.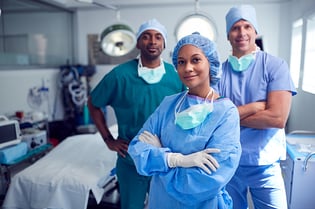 According to a survey by recruitment firm Jackson Physician Search, 70% of physicians are actively disengaged from their employers. A whopping 54% of the 400 physician respondents are planning changes to their employment and 50% of those doctors plan to leave their current employer for another employer. Additionally, 36% of the physicians surveyed are planning for early retirement or a career change outside medicine.
Furthermore, a shocking 30% of hospital administrators reported losing physicians during the pandemic, according to the same survey.

"A single physician vacancy can easily cost a healthcare organization $1 million in lost revenue, which has a detrimental impact on already financially struggling hospitals and medical practices," said Tony Stajduhar, president of Jackson Physician Search, in a recent press release. "When you also consider that recruiting a culturally aligned physician can take up to 6-12 months and cost $250,000 or more – including sourcing, relocation, and sign-on bonus – greater emphasis on retaining physicians is key to meeting the healthcare needs of Americans now and into the future."
Retaining Top Physicians
So what can be done now to stem the flow of some of the medical talent?
Physician retention is vital to the success of healthcare facilities — especially as COVID-19 rates slow and patients begin to seek the care they delayed during the pandemic. Additionally, value-based care is dependent on a stable network of high-quality and affordable care providers, according to the Association for Advancing Physician and Provider Recruitment (AAPPR).
Putting solid recruitment and retention programs is an essential first step. But many healthcare organizations need to overhaul their physician retention programs.
In the Jackson Physician Search survey mentioned above, 80% of physicians said their organizations had no such program in place. That's contradictory to 30% of healthcare administrators indicating they have an active retention program — although these same administrators reported no formal or documented program.
Only 2% of those doctors surveyed reported being satisfied with their organizations' retention program. When asked to rate retention programs on a 1-10 scale, with ten being the most favorable, 86% rated their program as a 6 or below. Conversely, 10% of the healthcare administrators assigned their program the highest, and 30% gave their program a 7 or 8.
A Disconnect Between Physician Wants and Hospital Benefits
Fortunately, the two sides did agree when it came to which benefits count towards retaining their talent. Unfortunately, those benefits aren't always available.
Physicians said additional compensation and additional time off were the top factors, but just 30% of the surveyed physicians reported that their organizations offer additional compensation, and only 13% said they offered extra time off. And 40% of physician respondents said their employers offered none of the benefits, including paid sabbatical, reduced calls, and gifts of compensation.
According to this data, there's an apparent disconnect between what hospitals offer and what physicians want and need. As a hospital leader, it's essential to carefully analyze and prepare to overhaul your physician retention strategies — particularly as we emerge from the pandemic and resume "healthcare as usual."
"Prioritizing physician engagement and retention is critical to the well-being of physicians, their patients, and the healthcare organizations they serve," Stajduhar said.
Bottom Line: Improve Retention Programs or Lose Top Talent
To further compound the issue, hospitals (especially in rural areas) are experiencing an ever-worsening physician shortage. That, combined with pandemic-prompted burnout and inevitable challenges in our post-pandemic future, means effective physician retention will only become more critical. The future of healthcare in the US hangs in the balance.

Hospital administrators can start by having open, honest conversations with physicians, seriously considering their feedback, and including them in the decision-making process. By working together to create a cohesive plan, doctors and administrators can mitigate losses and create a better environment for everyone involved.