What to Know Before Going to Work in A Pandemic Hotspot
Doctors, nurses and healthcare workers are known to charge into a crisis, even as the rest of the community flees to safety. Today, as COVID-19 continues its seemingly relentless hold on the U.S., many areas are experiencing higher rates of diagnosis than others, flooding hospitals and forcing professionals to double their hours without relief.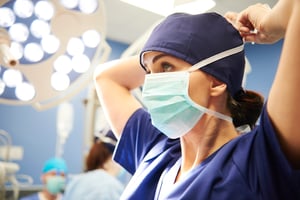 Many physicians practicing in areas of the country where the coronavirus is spreading slower, or areas not hit quite as hard, are eager to offer their services to those places where the curve is climbing. Even retired physicians are choosing to lend their expertise.

If you're in an area not experiencing a surge and are considering taking your knowledge and skills to the frontlines of pandemic hotspots, there are a few things you should know.
The AMA Has Released a Guide for Medical Volunteers
To assist healthcare workers in their efforts to help communities ravaged by COVID-19, the American Medical Association (AMA) has released a COVID-19 volunteer guide for medical professionals. The guide outlines ways to connect physicians with underserved areas and provides instructions on assisting via telehealth.
The AMA guide also gives updates on areas most in need of volunteers and offers resources for retired physicians who want to help. There is a section specifically for medical learners outlining protection best practices, as well as links to information regarding licensure and access to credentials.
Hotspots are Easing Licensure Restrictions
Many pandemic hotspots are relaxing their licensure requirements to make it easier for out-of-state physicians, those who have retired from practice and even medical students, to roll up their sleeves and help.

"States with flexible laws already on the books have issued emergency declarations and executive orders directing state health departments and medical boards to clear legal obstacles," Politico reports. "In other states, legislation has been fast-tracked to create new emergency powers."
For example, Idaho and Colorado permit any physician with a license to practice medicine in other states to practice locally. Many other states have expedited licensure so that out-of-state physicians can be granted a temporary license within 24 hours of application.
CMS is Providing Additional Support
The Centers for Medicare and Medicaid Services (CMS) is also helping by easing certain restrictions, especially in pandemic hotspots. To keep up with increasing demands, area hospitals are expediting onboarding for medical workers, increasing the number of temporary testing sites, and easing restrictions on critical access hospitals. (You can read more about that here.)
Additionally, more flexibility and less required paperwork mean medical personnel have more time to provide life-saving care.
Of course, as predicted, pandemic hotspot areas are always changing. As curves flatten in some areas of the country and the world, others are seeing trend lines climb. And the World Health Organization (WHO) has warned countries should prepare for a second wave in the coming months.

Whether you're a medical student or a seasoned physician, nurse or retired healthcare professional, you'll likely be needed somewhere soon. By utilizing the resources at your disposal, you can ensure you're prepared now — and in the event of a second wave.