What's Behind a Patient's Choice of Care Setting?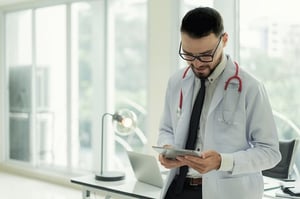 When a person (or their loved one) becomes ill or injured, they have several choices for where they'll receive the care they need. In addition to traditional physician's offices and emergency rooms, patients today can also select from urgent care facilities, retail clinics, telemedicine solutions and home health visits.

To determine how patients and their families choose care settings, the University of California Irvine surveyed more than 5,000 employees and published an analysis in Health Services Research. The survey included 10 clinical scenarios ranging in severity, and participants were asked to select their preferred care setting for each.
Here are a few key findings you need to know.
Top Factors May Not Be What You Expect
If you assumed patients would be primarily concerned with costs and wait times, you might be in for a surprise.
"Out-of-pocket costs and wait time had minimal impact on patient preference for site of care," researchers wrote. "Choices were driven primarily by the clinical scenario and patient characteristics."
Increases in cost and wait times had an insignificant impact on participants' choices. Instead, patients were more influenced by the medical condition, personal characteristics and their familiarity with a specific care setting.
For example, in a non-time sensitive scenario, like a chronic condition, immunization or when their child needs a physical, survey participants were more likely to choose their physician's office. But for a deep cut or burn, they were more likely to choose an urgent care center or emergency room.
Parents Will Seek Treatment for
their

Children

before

Themselves

Parents were more likely to seek treatment if their child had diarrhea than if they had diarrhea.

In the case of a child suffering from diarrhea, 29.5% of participants said they'd select a physician's office, while 30% said they take their kid to an urgent care facility. However, 29.9% of those surveyed said they'd opt for "self-care" or "wait and see" if they were dealing with the same condition.
There is No Single "Perfect" Care Setting
While one care setting didn't totally win out over the others, physician's offices and urgent care centers remain the most popular. However, in the case of chest pains, 68.9% said they'd go to an emergency room.

Also, although patients seem to like having several care settings to choose from, very few participants chose "physician home visit" in any situation. And fewer than 17% said they'd opt to call a nurse advice line in any of the 10 scenarios.
How to Use these Findings
It's important to note that while this survey included participants across several professions and socioeconomic backgrounds, patient preferences may vary by geographic location and insurance coverage, too. The best way to find out whether you're offering the best options and increase patient satisfaction is to use your own surveys or develop a patient advisory council.

The care setting landscape is always changing, and the most popular options today may change over time thanks to access to information, access to technology and generational shifts. By taking a moment to gather patient feedback, you can ensure you're well-prepared to meet their needs.