WISEWOMAN Program Helps Reduce Risk for Heart Attack and Strokes
In the United States, heart disease is the leading cause of death for women (one out of every four).
In 1993, the Centers for Disease Control and Prevention (CDC) created the WISEWOMAN (Well-Integrated Screening and Evaluation for WOMen Across the Nation) program to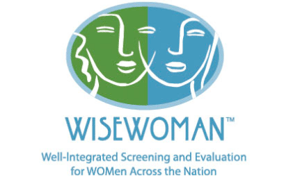 help women understand and reduce their risk for heart disease and stroke by providing services to promote lasting heart-healthy lifestyles. WISEWOMAN currently consists of 21 programs in 19 states and two Native American organizations. Between 2008 and 2013, the WISEWOMAN program served nearly 150,000 low-income, uninsured, and underinsured women aged 40 to 64 years, 91% of whom had at least one risk factor for heart disease and stroke. Nearly 101,000 women have participated in a healthy lifestyle service.
Funded by the Centers for Disease Control (CDC), local WISEWOMAN programs enable qualifying women to receive free screenings and counseling about their risk for heart disease and stroke. Women are then supported as they participate in evidence-based lifestyle programs, individual health coaching, or referred to other community resources. Although the services provided by each WISEWOMAN program may vary, they are all designed to promote lifelong heart-healthy lifestyle changes.
WISEWOMAN uses innovative and evidence-based approaches to heart disease and stroke prevention within health care systems and throughout communities. Examples include:
Team-based care approach, which includes the patient and the patient's primary care provider, nurses, pharmacists, and community health workers, to provide care for patients with high blood pressure and other risk factors.
Supporting clinicians by providing tools and resources to help their patients regularly measure their blood pressure at home.
Providing tools to pharmacists to work with patients to help them take their blood pressure medications as directed.
Providing skill-based training to encourage participants to improve their diet and increase physical activity.
Referring smokers to quit lines and other tobacco cessation resources.
Supporting community-based farmer's markets and other programs to increase access to healthy, fresh food options.
Providing access to community-based physical activity options such as YMCA memberships and passes to local park and recreation services.
Increasing the number of evidence-based lifestyle programs offered in communities such as the National Diabetes Prevention Programs and Take Off Pounds Sensibly Club, Inc. (TOPS) groups.
Reference:
https://www.cdc.gov/wisewoman/about.htm