A Tribute to Janet Holland, RN, CNN
Sadly, Janet Holland RN, CNN, passed away on March 12, 2023. From myself and the Transonic family, we wanted to express our condolences to Janet's family as well as her extended family of patients, dialysis community members and co-workers who are also mourning her passing; she touched and helped so many people and as such, I know that this loss is deeply felt by many. I also wanted to take a moment to celebrate the impact that Janet made throughout her work life; she was a true nephrology nurse change agent who spent her career working to improve patient care!
Janet helped create the collaborative role of a vascular access coordinator for large dialysis organizations, including Gambro and DaVita. She published their QCI project in a two-part series1,2 which detailed the core process of the four "C's, including:
Commitment
Continuous Quality Improvement
Core Competency
Communication
True to Janet's form, the second part abstract ends this statement: "Ongoing communication is critical. Everyone needs to be a part of the change process."
Janet was a tireless advocate for process change and improvement for better patient care – she showed others how to evaluate their current care process, expand their knowledge base, and then make adjustments to their care process with ongoing CQI oversight. She became a friend to many at Transonic when, as part of her CQI process, she and Dr. Larry Spergel published a landmark paper on comparing access flow measurements with static intra-access pressure ratios3 and then worked to implement access flow measurements as a method to improve access care. She also authored and co-authored a number of other key papers with the aim to improve patient care and outcomes.
Janet was also a key member of the CMS work group 'Fistula First, Catheter Last'. The scope of work included a toolkit to support the standardization of a simple One Minute Check vascular access examination. The kit also included a patient guide to explain the process of care to get an AV access, and a booklet for the Dialysis Access Care Team that detailed the roles of each member and the collaboration required to coordinate care. I was honored to work with her on this project; she was a long-term mentor to me as well as many other nephrology professionals. The One Minute Check is now the standard of care for dialysis professionals, and it helps them to safeguard dialysis patient's critical lifelines.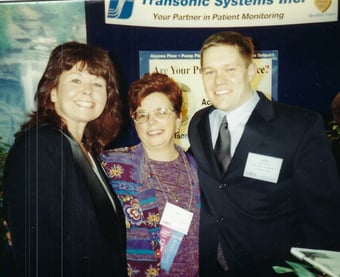 Janet and I were original ASDIN Members (American Society of Diagnostic and Interventional Nephrology Associate) when the Society was formed in 2000. ASDIN co-hosted multiple physician educational programs for Interventional Nephrology and Janet supported these programs as an active volunteer; she was absolutely terrific at teaching nephrologists about vascular access care! She was also an active member of The Vascular Access Society of the Americas (VASA) as an Allied Health member. She served on many of the program education planning committees and was a favorite facility member with her flare for making learning fun!
I have lost a mentor and a dear friend, and I know that this loss is felt by many. Janet's life work reflects the critical role nephrology nurses and the entire Dialysis Access Care Team have in improving the lives of individuals impacted by Chronic Kidney Disease and she is an example of the huge impact that one person can make. Her work has created a living legacy that patients and dialysis care teams will benefit from for years to come. We are all truly thankful for Janet's dedication to improving hemodialysis vascular access care!
~ Debbie Brouwer-Maier & The Transonic Team
Duda CR, Spergel LM, Holland J, Tucker CT, Bander SJ, Bosch JP. How a multidisciplinary vascular access care program enables implementation of the DOQI guidelines. Part I. Nephrol News Issues. 2000 Apr;14(5):13-7. PMID: 11111535.
Duda CR, Spergel LM, Holland J, Tucker CT, Bander SJ, Bosch JP. Lessons learned. Implementing a vascular access quality improvement program. Part II. Nephrol News Issues. 2000 May;14(6):29-32, 37. PMID: 11249456.
Spergel LM, Holland JE, Fadem SZ, McAllister CJ, Peacock EJ. Static intra-access pressure ratio does not correlate with access blood flow. Kidney Int. 2004 Oct;66(4):1512-6. doi: 10.1111/j.1523-1755.2004.00946.x. PMID: 15458445.
Other key publications include: