First Artificial Kidney Built in War-Torn Netherlands by W.J. Kolff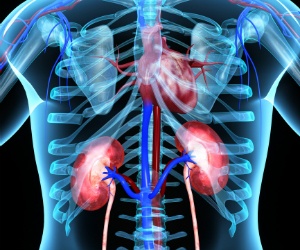 Conditions were harsh. When the Netherlands was attacked and occupied by Nazi Germany in May, 1940, the lives of a young doctor, Willem Johann Kolff, and his family were to irrevocably change. Kolff was a resident at the University of Groningen. There, he had watched a young man slowly die of kidney failure. The 22-year-old's agonizing death ignited a resolve in Kolff to do something to help patients with renal failure. He was going to build an artificial kidney.
Kolff's mentor was 67-year-old professor Leonard Polak Daniëls. Daniëls had created an open academic atmosphere at Groningen, unlike the formal hierarchical cultures of other Dutch universities. Kolff flourished in this environment and was able to pursue his "out of the box" artificial kidney notion so that patients with kidney failure would not be doomed.
Along with Robert Brinkman, professor of biochemistry, Kolff built a prototype kidney. Their kidney consisted of a stainless steel drum suspended in a container of dialyzing fluid. A spiral cellophane pipe to be filled with a patient's blood was wrapped around the drum.
However, their work came to a sudden stop when Kolff learned that his Jewish role model Daniëls had committed suicide rather than submit to German occupation. He was replaced at the university by a Dutch national socialist, German sympathizer Albert E.G. Kreutzwendedich von dem Borne. It was an untenable situation. Kolff had to leave.
He was hired to be the first full-time staff physician at Engelberg Foundation City Hospital in Kampen, a small orthodox Protestant town of 23,000 located on the east side of the IJsselmeer, the Netherlands' inland sea. History was about to be made, for Kolff was determined to try out his new kidney.
But first, he had to find someone to manufacture it. He turned to the director of the Kampen Enamel Factory, engineer Hendrik Th. J. Beck. E.C. van Dijk, a mechanical engineer, joined the team. The three men met at 5 a.m. before the factory—which had been requisitioned to make pots and pans for the German army—officially open at 8 a.m. under its German overseer. The trio modified and improved the prototype artificial kidney's design to capitalize on the effect of gravity in moving the patient's blood. Kolff adapted a connection from the cooling system of a Ford to get the blood from a stationary rubber tube to the revolving drum without leakage.
Their first patient was a dying elderly Jewish man named Gustav Boele, who had been too ill to be shipped to Poland with the rest of his family. The Germans had allowed him to go to the hospital and then simply forgot about him. After Boele fell into a coma, Kolff decided to try out his artificial kidney for the first time. Assisted by his wife Janke, the machine worked at first. Then its sewing machine motor suddenly died and Janke turned the handle herself for 15 minutes.
Kolff learned from this doomed experiment that his machine needed to be improved. He needed help. He soon found the right person for the job—Jacobus (Bob) van Noordwijk. Active in the resistance, as was Kolff, van Noordwijk had to be disguised at the hospital so he didn't attract attention. Together with a lab tech Mieneke van der Leij, the artificial kidney was improved and ready to be used on more "hopeless" renal patients.
During the next two years, valuable data was collected for Kolff's thesis as two more artificial kidneys were manufactured with materials the men could cobble together. Fifty yards of sausage casings were wrapped around a wooden drum set into a salt solution. The patient's blood was drawn from a wrist artery and fed into the casings. The drum was rotated, removing impurities in the blood. Kolff tried out his "artificial kidney" on 16 more patients who ultimately succumbed to their disease.
But on Sept. 11, 1945, after the Netherlands had been liberated, a former German collaborator was brought from prison to Kampen Hospital with end-stage renal disease. It had been 14 months since the artificial kidney was last used when Sofia Maria Schafstadt was put on dialysis for 11 hours. Eighty liters of her blood were cleansed and 60 grams of urea removed during the procedure. Just as the team thought that they were going to lose another patient, Schafstadt's kidney started producing urine. Seven days later her kidneys were fully functioning. Schafstadt became the first patient whose life was saved by an artificial kidney.
Gleaned from Inventor for Life – The Story of W.J. Kolff Father of Artificial Organs. Herman Broers, B&Vmedia Publishers, Kampen, 2006.