Cardiovascular Disease in ESRD Patients
(Gleaned from the 2018 USRDS Annual Data Report: Volume II: Chapter 8)
Patients with end-stage renal disease (ESRD) are among the highest risk populations for cardiovascular diseases (CVDs)—a major cause of death in ESRD patients. The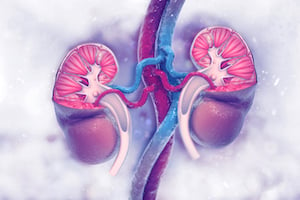 relationship between kidney disease and acute myocardial infarction (AMI), coronary artery disease (CAD), heart failure (HF), and sudden death/cardiac arrhythmias is complex and bi-directional. ESRD often complicates disease management of CVD, influencing both medical and procedural options, thereby adversely affecting a patient's prognosis.
Cardiovascular disease is common in adult end-stage renal disease (ESRD) patients, with coronary artery disease the most common condition, exceeding 50% in HD patients age 65 and older.
Heart failure is also common in ESRD patients.
Older ESRD patients have a higher prevalence of cardiovascular conditions than younger patients, whether they were receiving HD or PD.
Even relatively young ESRD patients—those ages 22-44 and 45-64 —are likely to suffer from cardiovascular disease.
Cardiovascular diseases increase short- and long-term mortality for ESRD patients.
Only about two-thirds of dialysis or transplant patients with acute myocardial infarction (AMI) received beta-blocker medication. Similarly, among ESRD patients with heart failure, fewer than half received angiotensin-converting enzyme inhibitors (ACEIs) and angiotensin receptor blockers (ARBs). Although many ESRD patients with atrial fibrillation (AF) are at elevated risk of stroke, only about one-third of dialysis patients with AF were treated with warfarin.