Controlling Life Threatening Bleeds (LTB) from Arteriovenous Fistulas or Grafts
Life-threatening bleeds (LTB) from arteriovenous fistulas or grafts are significant bleeds which are not stopped by application of a normal amount of pressure as is commonly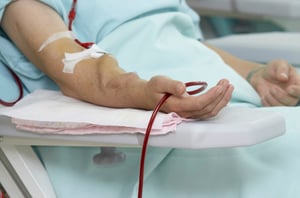 used to stop bleeding after dialysis needle removal. In many cases they occur spontaneously at home between dialysis sessions, away from the clinic or caregiving team. Although access-related LTBs are not common, they can result in the loss of the patient's access and even be fatal.
The British Renal Society (BRS) and Vascular Access Society of Britain and Ireland (VASBI) recognized the need for information and guidelines concerning the potential for access-related life-threatening bleeds (LTB) for by renal, emergency teams and caregivers. The societies therefore compiled the following recommendations to highlight the LBT early warning signs and symptoms in order to reduce future fatalities.


Early Warning Signs:
Any non-healing scab / wound over the AVF / AVG
Prolonged bleeding post hemodialysis or bleeding in between dialysis sessions
Aneurysms that are increasing in size, either at cannulation sites or elsewhere
Shiny, thin skin over the AVF / AVG, particularly over aneurysms
Signs of infection – redness, swelling, pain, discharge or pus
Other skin integrity issues in the vicinity of the AVF / AVG

If a bleed starts:
Call for help. Dial 911 (don't delay) and state "Bleed from dialysis fistula"

Apply

firm

pressure directly over bleed site. Use a thumb or bottle top (hollow side) to localize pressure. Once help from the emergency services has been initiated, patients should continue to apply direct pressure to the bleed.

Do not use large absorbent item such as a towel which disperses pressure. If bleeding is not controlled, have the patient lie down and ask them to lift up the affected limb.
If bleed stops, still go to the hospital to be seen by a surgeon who specializes in vascular access
The priority is to stop the bleeding, not preserve AVF or AVG function.
References:
JOKC_2018_3_5_312-313_BRS_Bleed
https://britishrenal.org/news/life-threatening-bleed-improving-patient-safety/