Create a Culture of Patient Safety at Your Dialysis Clinic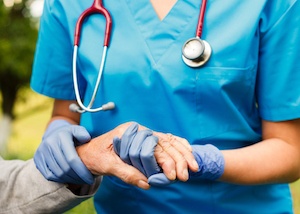 Do Dialysis Patients Feel Safe?
According to data from the 2007 Renal Physicians Association (RPA) Health and Safety Survey Project, nearly half of dialysis patients surveyed said they "sometimes, usually or always worry that someone will make a medical mistake during one of their dialysis treatments." Not only that, 87 percent of staff indicated a mistake had been made in a patient's treatment over the last three months.
Patients also indicated the following issues made them worry about safety during their treatments:
Problems with machine settings prior to or during dialysis

Clotting or blood flow problems

The wrong dialyzing solution was used

The needle came out of their access site
A Culture of Safety at Your Dialysis Clinic: Focus on These 4 Areas
Dialysis patient safety should focus on incorrect dialyzer/dialyzing solution, patient falls, medication errors and omissions, non-adherence to procedures, failure to maintain hand hygiene and venous needle dislodgement, according to the RPA.
To create a culture of patient safety at your dialysis clinic, the RPA recommends focusing on these issues:
Patient-centered care: Make patient-centered care a priority by meeting regularly with staff and having regular conversations with patients, ensure staff is trained in proper safety procedures, and post documents that outline patient-centered care in high-traffic areas.
Blame-free environment: An environment where anyone can bring up problems and issues free of blame or recrimination is essential to patient-centered care. Foster a safety-positive environment by providing ongoing training and education about safety practices and provide activities that help staff reinforce their skills.
Educate staff and patients on what to watch for when something in the communication system is not working properly. If an error occurs, provide physical or emotional support and recognize staff who report or avoid errors.
Open communication: This reinforces patient safety as a priority and shows staff you value everyone's role in it. It also creates an open forum for sharing information about errors, errors that almost happened and ideas for improvement. Create clear systems for staff to share this information.
Shared responsibility for safety: Encourage all staff — administrative and clinical — to focus on teamwork and act as a second set of eyes for one another. This can help reduce errors and potential errors. Consider creating a patient safety statement that declares your dedication to improving and maintaining patient safety and display it in high-traffic areas.