Debbie Brouwer-Maier RN, CNN, Weighs in on Cannulation of the Vascular Access
One of Transonic's valued experts is Vascular Access Marketing Manager Debbie Brouwer-Maier, RN, CNN. As a registered nurse with over 35 years of experience in the dialysis field, Debbie brings to her position a comprehensive first-hand knowledge of hemodialysis with all its iterations, challenges, and nuances. She is a sought after speaker/presenter/workshop leader at national and international nephrology meetings where she offers a thorough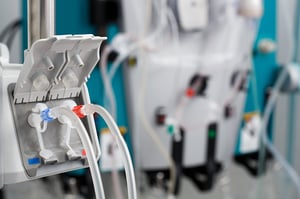 scientific understanding of timely hemodialysis topics paired with her unique nurse's perspective and advocacy for patients and caretakers. Debbie was part of the team of experts that drew up the first Kidney Foundation's Kidney Disease Outcome Quality Initiative (KDOQI) Guidelines in 2006 and the Center for Medicare and Medicaid Services (CMS)-sponsored Fistula First Campaign in 2004. Debbie has now lent her expertise to a publication about cannulation of the vascular access entitled "Considerations in Access Cannulation: Traditional and Evolving Approaches" which she coauthored with L. Kumbar from Henry Ford Hospital in Detroit and and K. Ramani from the University of Michigan Hospital.
Published in the 2020 May issue of Advances in Chronic Kidney Disease, the paper presents an overview of needle cannulation of a hemodialysis access, noting that cannulation is the soft underbelly of hemodialysis access care that has remained essentially unchanged for many years. Successful cannulation of a vascular access is critical because cannulation errors result in series complications such as infiltration, hematoma, subsequent revision procedures, and potential loss of hard-earned access.
The paper first reviews the history and importance of cannulation in the context of the history of dialysis. In the first years of hemodialysis, physicians performed the first vascular access cannulations. In the 1960s this and other dialysis delivery tasks were delegated to registered nurses who developed cannulation policies and procedures. Now, cannulation in the United States is primarily performed by patient care technicians under the supervision of nurses. Although the "best" cannulation method for a patient is contingent upon the patient's access type and characteristics along with the availability of local clinical expertise, the preferred method of cannulation is the rope ladder technique with rotation of puncture sites at each hemodialysis session because it permits sufficient time for healing of prior cannulation sites, and reduction in complications such as bleeding, infection, and aneurysm. The least preferred is the buttonhole technique where infection rates can be as high as those that occur with central venous catheters.
Also discussed in the paper were needle angle, blood flow rates, and the depth of the needle tip that can potentially lead to wall stress on the posterior wall and up to 10 cm from the needle cannulation site. While plastic cannulas have been widely adopted in many countries in Europe, Asia, and Canada for AV Fistula cannulation and provide a viable alternative to metal needles because they have lower complications and a favorable cost-benefit ratio, they are not currently FDA-cleared for use in the United States.
The authors cite studies, where available, to elucidate their discussion of the various topics of cannulations. One 2019 prospective pilot study by M. Elias found no difference in the recirculation rate and HD adequacy between needles pointing in the same direction compared with those pointing in the opposing direction [2]. Another study by C. Basile using Transonic ultrasound dilution technology reported zero recirculation when a minimum of 2 inches separated the needles [3], which is what the 2006 NKF KDOQI Vascular Access Guidelines recommend. The authors noted that needle injury may promote intimal thickening, but its effect on access outcomes is currently unknown. Also discussed was the potential of sheer stress created by the needles on the walls of the cannulation site.
Addressed are new developments in vascular access management including the new challenges in dialysis access cannulation that percutaneous creation of arteriovenous fistulas has presented; how point-of-care ultrasound-guided cannulation will likely lead to a paradigm shift in access cannulation; and how cannulation stations can be used to standardize the cannulation procedure.
The authors conclude that HD access cannulation is a combination of art and science that requires skillful technique because errors may result in serious complications. They call for the implementation of novel cannulation delivery through the use of cannulation stations, and cannulation aids and also more access outcome studies with robust data collection that evaluate the impact of needle size on cannulation. Finally, they suggest that point-of-care ultrasound-guided cannulation will likely change the paradigm of dialysis access care. In all, this review serves as an informative and important overview of cannulation, its challenges and future in the 21st century.
References:
Kumbar L, Ramani R, Brouwer-Maier D, "Considerations in Access Cannulation: Traditional and Evolving Approaches" ACKD 2020 May; 27(3): 199-207.

Elias M, Nnang-Obada E, Charpentier B, Durrbach A, Beaudreuil S, "Impact of arteriovenous fistula cannulation on the quality of dialysis," HemodialInt. 2018; 22(1): 45-49.
3. Basile C, Ruggieri G, Vernaglione L, Montanaro A, Giordano R. A comparison of methods for the measurement of hemodialysis access recirculation. J Nephrol. 2003; 16(6): 908-913.