High School Student Sparks Development of First Portable Dialysis Machine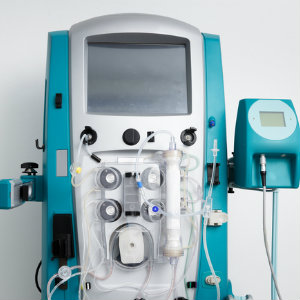 The first hemodialysis machines at the University of Washington weighed about 1,000 pounds. They were bulky and could only treat one patient at a time. Using them cost about $10,000 annually.
Nevertheless, demand greatly exceeded the capacity to treat patients so there had to be some mechanism for choosing whom would receive treatment. A crisis was reached when the selection committee denied life-saving treatment to a 16-year-old high school student, Caroline Helm.
University of Washington's Belding Scribner, inventor of the revolutionary Scribner Shunt, couldn't accept the verdict. He felt that the only solution was to provide her dialysis on a new, experimental system that was small and portable enough to be operated out of her home. It had to be ready within four months.
He called on his colleague, chemical engineering professor Albert "Les" Babb, to see if he could design and build such a device. Babb's practical concern about the lack of time and resources to tackle such a complex project in such a short time dissolved when he realized the patient's father was a good friend. "I stopped looking for excuses for refusing the project. Instead, I said that if I could assemble a team of engineers and technicians who were willing to work after hours and on weekends, I would go for it," he recalls.
Babb and his colleagues engineered a new system called the Mini-I. It was delivered to the UW Hospital on June 1, 1964, and Caroline's first portable dialysis at home with the device occurred the following month.