Dialysis, the Foremost Renal Replacement Therapy (RRT) Throughout the World
(From 2018 USRDA Data Volume 2: ESRD in the United States)
Persons with end-stage renal disease (ESRD) have various options for Renal Replacement Therapies (RRT) to treat their disease. They include in-center hemodialysis (HD), home hemodialysis (HHD), peritoneal dialysis (PD), and kidney transplantation. Use of the different RRT forms varies considerably across countries. Dialysis is more commonlyutilized than kidney transplantation as a therapeutic approach for the treatment of ESRD in the majority of countries.
However, many eligible ESRD patients view kidney transplantation as their first choice due to the substantially higher quality of life and longer median survival as compared with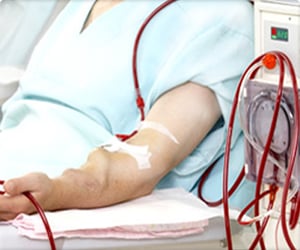 dialysis therapy. In 2016, transplantation for patients with ESRD ranged from less than 10 percent in Peru, Serbia, Romania, Thailand, Malaysia, Taiwan, and Japan to greater than 50 percent in Denmark, Finland, Iceland, Norway, Sweden, Estonia, Latvia, the Netherlands, Switzerland, the United Kingdom (including Scotland), Spain and Austria. Not surprisingly, countries with the highest proportion of kidney transplant

Hemodialysis - Most Common Form of RRP Therapys among ESRD patients also tended to have lower treated ESRD incidence rates. Hong Kong, the Jalisco region of Mexico, Iceland and Norway had the lowest use of in-center HD (16 percent to 24 percent) to treat ESRD patients. They achieved this through a combination of greater use of kidney transplantation and/or home dialysis.
Hemodialysis continues to be the most common form of dialysis therapy in nearly all countries. In nearly four-fifths of reporting countries, at least 80 percent of chronic dialysis patients were receiving in-center HD in 2016.
However, in 2016, PD was used by 71 percent of dialysis patients in Hong Kong, by 61 percent in the Jalisco region of Mexico, and by 57 percent of patients in Guatemala. Furthermore, 27 percent to 30 percent PD use was reported in Qatar, Colombia, Thailand, and New Zealand with 18 percent to 22 percent PD use seen in Norway, Finland, Australia, Iceland, Canada, Latvia, Denmark and Sweden.
Since 2007, an overall trend of increasing PD use as a percentage of all chronic dialysis has been seen in the countries of Argentina, Canada, Chile, Oman, Spain, Thailand and the United States.
In contrast, PD use has declined over this same time period in countries such as Australia, Belgium, Bosnia and Herzegovina, Brazil, Colombia, Finland, France, Greece, Hong Kong, Israel, Japan, the Netherlands, New Zealand, the Philippines, the Republic of Korea, Romania, Scotland, Singapore, Sweden, Turkey and the United Kingdom.
In 2016, home HD therapy was provided to 9 percent and 17 percent of dialysis patients in Australia and New Zealand, respectively. Home HD was also used by 2 percent to 7 percent of dialysis patients in the United States, the French-speaking region of Belgium, Scotland, Hong Kong, Sweden, United Kingdom, Netherlands, Canada, Denmark and Finland. However, in all other countries, home HD was either not provided or was used by fewer than 2 percent of dialysis patients.