Effectively Detecting Recirculation in Hemodialysis Patients
Nephrologists, nurses and dialysis techs at clinics across the country do a phenomenal job addressing issues and ensuring patients receive the highest quality care during hemodialysis treatment.
While there are a few methods to detect recirculation during hemodialysis, ultrasound dilution method is the most effective.
Here's how dialysis care teams can get quantitative measurements about recirculation and maximize hemodialysis patient care.
Transonic HD03 Hemodialysis Monitor
The Transonic HD03 Hemodialysis Monitor uses ultrasound dilution technology to measure, among other things, recirculation. Application of this technology is simple: flow and dilution sensors are clipped onto the dialysis tubing, and then provide measurements of the flow within that tubing.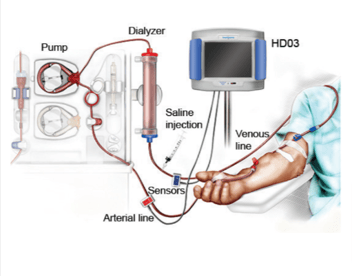 Recirculation is the mixing of dialyzed and undialyzed blood in the vascular access. Access recirculation is an important cause of inadequate dialysis. Our HD03 meter can tell you the exact percentage of recirculation due to access dysfunction.
Measurements only take a few minutes per patient and results are displayed on the monitor's easy-to-read, intuitive touch screen. This on-the-spot assessment helps care teams safeguard the health of their patients and confirm that there is zero percent recirculation.
Measurements That Matter

It's important to detect recirculation during hemodialysis because, otherwise, it can lead to a decrease in the effectiveness of the treatment and an increase in the risk of complications for the patient.
The HD03 separates vascular access recirculation from cardiopulmonary recirculation (CPR) and measures the actual percentage of recirculation, giving care teams the data they need to make a difference.
In addition to recirculation, the HD03 also measures delivered flow and vascular access flow.
The measurements provided vary by access type, as shown in the table below:

Detecting recirculation matters because it allows the care team to react early on with critical data needed to optimize dialysis treatment. The HD03 monitor gives dialysis care teams the tools they need to measure and to know.
Schedule a demo to see the HDO3 in action.