Endovascular Catheter Is Valuable for Measuring Access Flow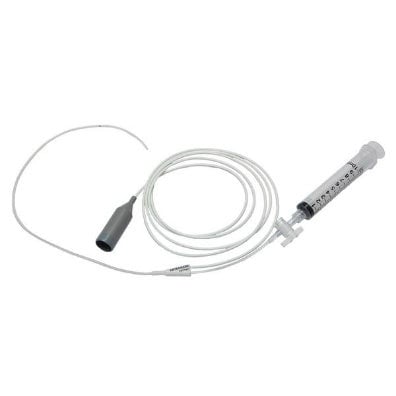 Dr. Lymaris GarcÌa-Medina and colleagues from the Universitario Reina Sofia General Hospital in Murcia, Spain analyzed the flow values measured by the Transonic ReoCath® Flow Catheter to determine whether the ReoCath's measurements were more reliable than angiographic and clinical findings for planning and determining the outcome of invasive radiologic treatments of hemodialysis fistulas.
The endovascular catheter was used in 598 procedures to measure flow in 341 vascular accesses. One hundred sixty-two (47.6%) of the measurements were in distal fistulas, 132 (38.4%) were in humeral fistulas, and 47 (14%) were in arteriovenous grafts for a total number of flow measurements of 3,051.
Of the 598 cases, angiography detected lesions in 81% (483) of the cases. Of these, 87% (419) of the cases were treated radiologically. The remaining 64 were referred to surgery — 24 with low flows, 40 with high flows.
In 419 (70%) of the cases, the ReoCath Flow Catheter was used to measure the results of radiologic treatment. Angioplasty was the most common treatment and was used in 342 cases. Thirty percent of the cases required no treatment.
From their experience with the ReoCath, the investigators concluded that the Flow Catheter is useful for measuring flow during invasive vascular radiology procedures for hemodialysis. By providing quantitative information on the functionality of the vascular access, the measurements were most helpful in determining whether a stenosis is present which needs to be treated. The ReoCath Flow Catheter also assesses the success of angioplasty, increases the longevity of the access and helps to avoid re-intervention. They also concluded that the ReoCath catheter is more reliable than the Doppler ultrasound, because it is not subject to the operator's subjectivity and the variability of the ultrasound machine.