Evaluate Angioplasty Success in AV Grafts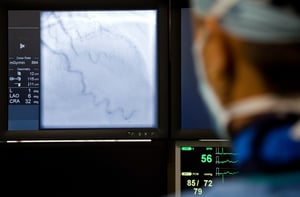 Washington University School of Medicine clinicians studied the correlation of assessment techniques for evaluating angioplasty success in AV grafts in 22 patients with PTFE grafts.
Angiographic success depends on the following:
Anatomical success: when the residual stenosis is less than 30% of the diameter of the access.
Hemodynamic success: vascular access blood flow increases.
Clinical success: when the vascular access can be used for one hemodialysis treatment.
They found that:
89% of the angioplasties reduced the stenosis < 30% of the vessel
The mean percentage of stenosis fell from 78% to 18%
There was no correlation between increase in blood flow and the visual angiographic results of the procedures.
The group concluded that: "Visual assessment of the lesion following angioplasty fails to predict the hemodynamic success of the procedure." There is a great need in the radiology suite for the ability to measure blood flow to identify less significant, flow-limiting stenoses.
Reference: Ahya SN, Windus DW, Vesley TM, "Flow in Hemodialysis Grafts after Angioplasty: Do Radiologic Criteria Predict Success?" Kidney Int 2001; 59: 974-978. (Transonic Reference #HD175A)