Study Compares Transonic HD Recirculation to BUN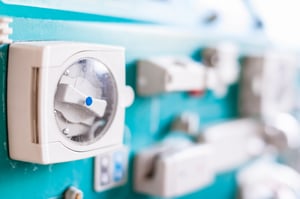 Until the mid-1990s, hemodialysis providers depended on access recirculation to tell them that their patient was being under dialyzed and his or her vascular access was failing. Yet, traditional methods such as blood urea nitrogen (BUN) sampling often overestimated recirculation so most patients showed some degree of recirculation (false positives).
A study to better understand the rate of true access HD recirculation by low vascular access flow was performed in 74 patients. When researchers studied recirculation with the Transonic Hemodialysis Monitor they found that:
Recirculation only occurred when access flow was smaller than or close to pump flow regardless of needle position
Only two of 74 patients had recirculation with access flows less than pump flows
The prevalence of recirculation measured by the hemodialysis monitor was significantly less than that found by other methodologies
They concluded that the Hemodialysis Monitor provides a rapid, simple and noninvasive method of measuring access flow and recirculation which, because it can separate recirculation of dialyzed blood through the access from recirculation through the cardiopulmonary system, eliminates the false positives of BUN measurements. Because of this landmark study, recirculation is now considered a late indicator of access dysfunction.
Reference: McDonald JT, Sosa MA, Krivitski NM, Glidden D, Sands JJ, "Identifying a New Reality: Zero Vascular Access Recirculation," ANNA J 1996; 23(6): 603-8. (Transonic Reference # HD4T)