Health & Safety Issues for Nephrology Nurses
Nephrology nursing can be a rewarding job. Many nephrology nurses enter the field wanting to make the process of dialysis easier for their patients and see it as an opportunity to connect on a deeper level with patients and their families. Dialysis nursing also has a predicted job growth rate of 26% over the next decade.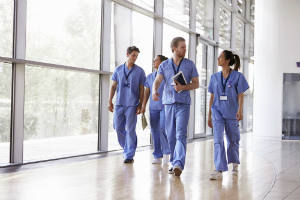 But dialysis nursing can be a taxing occupation. While stress and burnout are commonly identified problems, less is known about the specific health and safety challenges nephrology nurses face in their daily environment. A prospective study by the Saudi Center for Organ Transplantation found that hemodialysis nurses experienced a mild level of stress and a moderate level of burnout. Malfunctioning machines were a top stressor.
When looking the general nursing profession, a 2013-2014 executive report from the American Nurses Association cited workplace stress as a top health and safety issue for nurses, along with lifting heavy objects and prolonged standing:
The report found that even positive situations like a patient surviving despite the odds or a promotion contributed to stress levels.
ANNA and NNI released a national survey-based study last year in hopes of determining more specific strategies to address the health and safety risks of nephrology nurses. In the meantime, dialysis nurses can prevent work-related stress by developing healthy habits in the workplace and at home. One of the most effective approaches is to learn how to compartmentalize:
Another powerful way to fight stress is by developing emergency copy strategies. Here are some helpful examples: