4 Hemodialysis & Kidney Care Resources to Follow on Twitter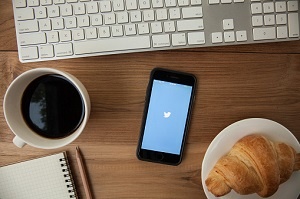 Twitter can be used for more than keeping up with pop culture and current events. The social network can be a useful tool for receiving quick, current hemodialysis and kidney care developments, whether you're using your phone on your lunch break or catching up on some late-night television.
Here are four hemodialysis resources and kidney care resources to follow on Twitter.
1. The American Society of Nephrology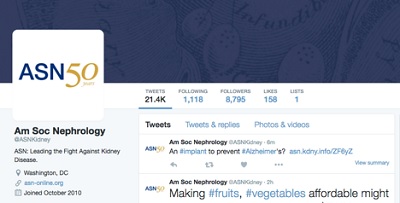 The American Society of Nephrology Tweets about a variety of developments—from diabetes news to cardiac care and healthy eating—that can affect kidney health.
2. The National Institute of Diabetes and Digestive and Kidney Diseases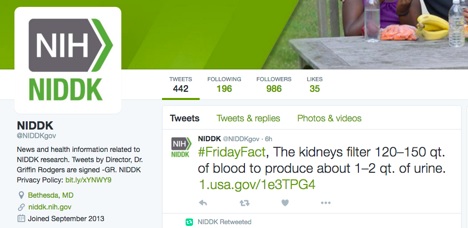 Ever wonder what your patients read about kidney care? The NIDDK gives you a taste. The government health organization Tweets interesting facts about kidney care from a patient's perspective.
3. The National Kidney Foundation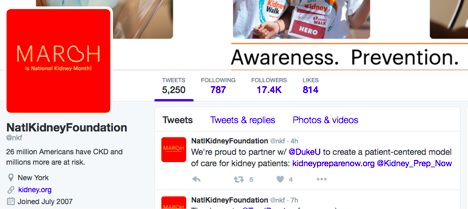 The National Kidney Foundation (NKF) Tweets about kidney health developments and also shares stories of kidney patients surviving and thriving.
4. Dr. Swapnil Hiremath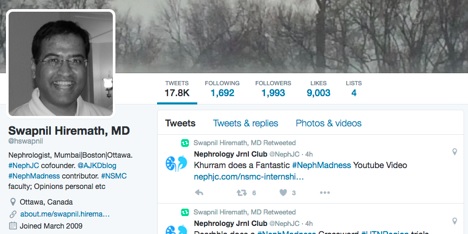 A Canadian nephrologist, Dr. Hiremath Tweets about the latest kidney studies and news and is also an active participant in all things kidney health, like March's #nephmadness.