Hemodialysis Pioneer Nikolai Krivistki Reflects on His Journey to Help Patients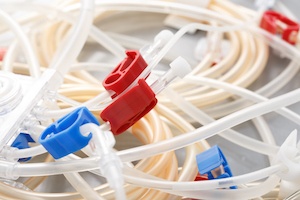 "I'm doing something that helps save lives. That makes all the difference." —Nikolai Krivitski, PhD, DSc
Hemodialysis pioneer Nikolai Krivistki, PhD, DSc, recently related how he came to leave Russia to come to America a quarter century ago. Not long after joining Transonic in 1992, Nikolai realized during an "aha moment," that by combining saline indicator dilution technology with transit-time ultrasound and reversing the hemodialysis blood lines to create recirculation, vascular access flow could be measured directly. His realization revolutionized hemodialysis surveillance. Within a few short years, ultrasound dilution technology with the hemodialysis monitor was the recognized gold standard for measuring vascular access flow.
Abstract Submission

Before joining Transonic in 1992, Nikolai had been a scientist at the National Research Center for Surgery, part of the USSR Medical Academy, Moscow. There, in 1990, as the former Soviet Union was beginning to open up under Gorbachev's glasnost and perestroika policies, Nikolai was elected to the first democratically elected Moscow parliament. Life in Russia held promise. Nikolai then heard about the Fifth World Congress for Microcirculation that was going to be held in Louisville, Kentucky, and decided he wanted to submit an abstract. After writing the abstract, Nikolai faced a challenge — how to get the abstract to the Congress Abstract Committee. Sending it by mail from Russia was not an option.
Ingenuity
Instead, Nikolai went to the Moscow airport, identified a young American passenger who was about to board a plane to the United States, and asked him to send the abstract once he landed in the States. He then handed him $1 for postage. That dollar was one-tenth of his $10 monthly salary. Months passed before he received a response. He then learned that he had been awarded a $1,000 travel stipend to attend the convention as an invited investigator from the Eastern Bloc. That $1,000 award was comparable to years of his salary and it opened up the world of travel for Nikolai.
It's Now or Never!
Attending the congress at the Transonic exhibit was Doug Collins, former Transonic OEM manager. When Nikolai had examined the Transonic equipment on display, he began offering advice on how to improve things. Upon Doug's return to Transonic in Ithaca, NY, he told Transonic President Cor Drost about the Russian scientist who had come to the Transonic booth. Cor then invited Nikolai for an interview. After the interview told Nikolai that he would have to think about hiring him and would let him know. Nikolai reacted, "There is no time to think about it. It's now or never!" In Russia, a reactionary coup was taking place at that time and Nikolai was being warned by his wife Raissa not to return home for fear of being arrested.
Trust Well Placed
Cor hired Nikolai and placed his trust in him. The rest is history — Nikolai recognized the possibility and potential of integrating his specialty, indicator dilution technology, with Cor's transit-time ultrasound technology, and the hemodialysis monitor was born. Vascular access lifelines for dialysis patients throughout the world are being saved through measurements of delivered blood flow, recirculation, and access flow. Today, measurements of cardiac output with the hemodialysis monitor are not just saving accesses, but are also saving lives of patients.
Opportunity to Make a Difference
Choking back tears, Nikolai reflected that, although he had numerous inventions and patents in Russia, they were not being used to help patients. Here in the United States, his 25 years at Transonic has produced products that do help save lives. That makes all the difference, not only to him but also to all his colleagues here and abroad and mostly, to the persons his inventions help.