How COVID-19 is Affecting Dialysis Patients
The COVID-19 crisis has shone the spotlight on shortages of PPE and ventilators, however, another equipment shortage has started gaining attention. Hospital workers on the front lines in New York are reporting critical shortages of dialysis machines.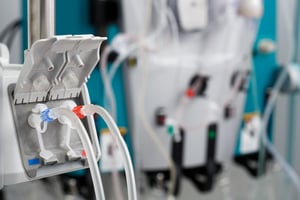 Physicians are finding that up to one-third of COVID-19 infected patients develop acute kidney injury. These patients are experiencing the condition in the absence of chronic renal conditions or advanced diabetes.
To meet the demand for dialysis machines, Baxter and Fresenius Medical Care are making changes. Baxter is boosting its production of dialysis machines, while Fresenius Medical Care has formed a national reserve pool of 150 dialysis machines for rapid deployment.
Fresenius is also doubling its production manufacturing capacity for consumables to go with the machines.
David S. Goldfarb, et al write in the Clinical Journal of American Society of Nephrology that the problem is being underreported in the media, as well as not being explicitly acknowledged by government officials.
"In mid-March 2020, our contingency planning for COVID-19 did not foresee the increased extent to which these modalities would be needed, or the myriad hurdles to expanding capacity," Goldfarb, et al write.
Further complicating the issue is the reduced number of trained staff available. Hemodialysis nurses, hemodialysis machine maintenance staff and technicians were isolating themselves or became ill.
"Our hardworking nurses and technicians can provide only so many hemodialysis treatments per day in the ICUs of our hospitals, which have continually seen increasing numbers of admissions. The widespread geographic nature of the pandemic precludes hiring temporary hemodialysis staff," they write.
"The magnitude of this calamitous short-coming in KRT could not have been foreseen by the nephrology and ICU communities, as early and subsequent reports from China did not emphasize the problem. The result of our experience is that we must now highlight the possibility that before a deficiency of ventilators become an issue in caring for patients with COVID-19, provision of KRT may face critical shortages. This occurrence is particularly likely in the absence of national or regional efforts to increase supply and ensure that fluids and consumables are delivered to those centers with the most pressing needs."
While the Strategic National Stockpile has received attention for its ability to secure ventilators and PPE, more focus should be placed on stockpiling equipment for kidney replacement therapy for future crises, Goldfarb, et al note.
"It may also be appropriate to train a larger segment of American healthcare workers to provide these potentially life-saving modalities in situations like the one we currently face."