How to Retain Dialysis Nursing Staff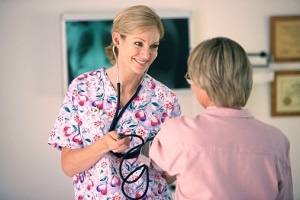 In just a few years, over half a million Americans will need long-term outpatient hemodialysis.
Chronic hemodialysis patients in the United States face high rates of adverse events and mortality, but having an adequate nursing staff to care for these patients—as well as the appropriate monitoring technology—helps reduce these risks.
With the uptick in patient volume comes a startling trend for dialysis clinic owners and managers: A decrease in hemodialysis nursing staff. Being a hemodialysis nurse comes with its unique set of challenges.
The Role of Burnout
Burnout, with its feelings of emotional exhaustion, detachment from others and diminished perceptions of personal accomplishment can affect a nurse's desire to leave his or her job.
Nurses want to help and heal patients, and working with chronically ill dialysis patients can be tough. These caregivers' job is to ensure patients with a lifelong condition—that brings with it a host of complications—remain healthy for as long as possible. Couple that with increased workloads and staff shortages, and it's no surprise 42 percent of dialysis nurses were planning to look for another position.
Research revealed that high patient-to-nurse ratios in dialysis facilities and increased numbers of nursing tasks left undone by nurses were associated with increased occurrences of dialysis hypotension, skipped and shortened hemodialysis treatments and patient complaints. The authors recommended that dialysis providers foster staffing structures and processes of care in hemodialysis units that effectively utilize the skills and services of professional RNs.
Steps to Retain Dialysis Nursing Staff
Make More Time for Direct Care: Having nurses function as clinic managers adds to their workload and takes away time that could be spent doing what they're passionate about—direct patient care. Consider delegating management responsibilities to other staff members, like social workers or registered dietitians.
"Among social workers' responsibilities are counseling, education, case management and crisis intervention, while day-to-day tasks may include helping patients understand treatment options, locate and access community resources and solve adherence challenges," according to Social Work Today.
Better Utilize Nurses' Skills: High patient-nurse ratios in clinics combined with increasing workloads for nurses had an effect on patients' health. Research from the Nephrology Nursing Journal found that patients of overworked nurses had increased instances of low blood pressure as well as skipped or shortened hemodialysis treatments. These nurses also generated more patient complaints.
"Dialysis providers [should] foster staffing structures and processes of care in hemodialysis units that effectively utilize the skills and services of professional RNs," researchers wrote.
In addition to delegating some duties to other clinic staff members, patient care technicians (PCTs) could also be utilized to give nurses more time for direct patient care.
Evaluate Your Management Style: Researchers at McGill University and Université du Québec à Trois-Rivières found nurses were more likely to stay at their current positions if their managers used a technique called transformational leadership. These managers foster a supportive environment and encourage teamwork toward a collective goal.
As life spans increase, along with the prevalence of diseases affecting the kidneys, the volume of hemodialysis patients will also increase. But small changes like delegating non-essential or clinic managerial tasks away from nurses and evaluating your work environment, can make all the difference when it comes to nurse retention.