Is Surveillance Valuable: A Critical Review
As the value of surveillance in managing vascular accesses is undergoing scrutiny, a critical review by distinguished leaders in the field including Drs. A Besarab, A Asif, P Roy-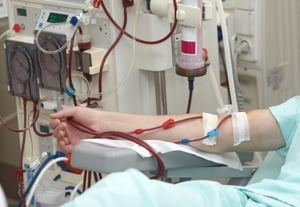 Chaudhury, LM Spergel and P Ravani responds to the skepticism about access surveillance.
They stress that tests to determine the functionality of AV accesses are valuable. They say that a reduction in thrombotic events in patients who have undergone surveillance is a worthy endpoint of surveillance and reduces patient morbidity.
Drawing upon a bibliography of 86 references they examined:
The scope of the problem in maintaining patency;
The difference between clinical "monitoring" by physical examination and "surveillance" by methods such as pressure monitoring, indicator dilution, and Duplex ultrasound;
The efficacy/value of monitoring and surveillance.
The reviewers concluded that:
Most of the available evidence suggests that detection of stenosis and prevention of thrombosis in AV fistulas is valuable.
When a test indicates the presence of a functionally significant stenosis, venography or fistulography should be performed to definitely establish the presence and degree of the stenosis.
In most cases, angioplasty should be performed if the stenosis is greater than 50% by diameter.
Stenotic lesions should not be repaired simply because they are present.
Reference:
Besarab A, Asif A, Roy-Chaudhury P, Spergel LM, Ravani P, "The native arteriovenous fistula in 2007. Surveillance and monitoring," J Nephrol 2007;20:656-667. (Transonic Reference # HD7594A)