Kidney Care News to Know
FDA Grants Fresenius Medical Care's Hemodialysis System Breakthrough Device Status
The new Fresenius system is designed to prevent blood clotting without the use of blood thinners by adding Endexo, an anti-thrombogenic additive, to the manufacturing process of the dialyzers and bloodlines..
Source: Nephrology News & Issues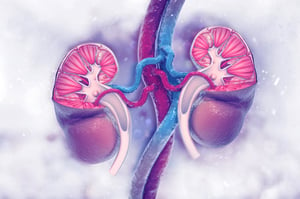 ICU Medical Acquires Pursuit Vascular
The definitive agreement sees ICU Medical acquiring Pursuit Vascular for $75 million. ICU Medical leaders say Pursuit Vascular's ClearGuard HD cap, used for the maintenance of hemodialysis catheters, will be a great fit for the company's portfolio of products.
Source: Nephrology News & Issues
Recovery Time After Dialysis Impacted by Patient, Demographic and Clinical Factors
Researchers found longer recovery times were associated with catheter use, lower albumin, sodium and intact parathyroid hormone levels; lower Kt/V, ultrafiltration volume by body weight, ultrafiltration rates and treatment frequency. Treatment time, phosphate levels and interdialytic weight gain did not appear to affect recovery time, researchers noted.
Source: Nephrology News & Issues
New Research: Percutaneous Device for Dialysis Access has Excellent Patency Rates
In a study, clinicians used a proximal radial artery (PRA)-AVF method to create an access along with the Ellipsys Vascular Access System. The study found that the percutaneous dialysis access device has excellent cumulative patency rates up to two years and has high patient satisfaction rates.
Source: Medscape
ESRD Patients at Higher Risk for Contracting Syphilis
Researchers found ESRD patients had a three times greater incidence of being diagnosed with syphilis than the general population.
Source: Renal & Urology News
Regular Blood Testing for HD Patients Not Associated with Lower Risks
A new study reveals routine monthly blood testing for prevalent patients on hemodialysis is not associated with a lower risk of death, cardiovascular events, hospitalization or hyperkalemia compared with blood testing performed every six weeks.
Source: Renal & Urology News
Depression Linked to Non-adherence to Dietary Recommendations
Researchers found a high prevalence and significant correlation between depression and not adhering to dietary advice in hemodialysis patients.
Source: Nephrology News & Issues