Kidney Care News to Know: New Kidney Research Initiatives Unveiled
DaVita's Medical Group Division to Pay $270 Million Over Inflated Charges
The division, which is being sold to UnitedHealth Group, agreed to pay the sum to settle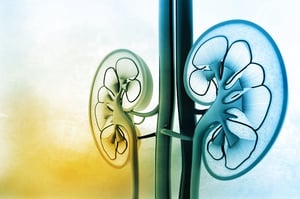 claims it provided inaccurate information on patients enrolled in Medicare Advantage plans, which led to overpayment from Medicare.
Source: Nephrology News & Issues
Insured Hemodialysis Patients More Likely to Get Earlier Vascular Access
Researchers found patients with Medicare or Medicaid are more likely than uninsured patients to use an arteriovenous fistula or graft by their fourth dialysis month. Study authors surmise providing vascular access coverage for uninsured patients before the fourth month of treatment could produce increased arteriovenous fistula and arteriovenous graft use and lead to improvements in patient health and cost of health care.
Source: Renal & Urology News
Better Kidney Disease Survival Rates Tied to Medicare Expansion
A study found significant improvements in the one-year survival rates of patients with end stage renal disease who initiated dialysis after the expansion of Medicare with the Affordable Care Act. Researchers theorize that, because the expansion eliminated the $150 per week payments, centers saw better adherence to treatment.
Source: Renal & Urology News
High-Dose Flu Vaccine May Cut Hospitalizations Among Dialysis Patients
Dialysis patients who received a high-dose flu vaccine between 2016-2017 were hospitalized less frequently than those who did not, according to a new study. However, researchers note these results should not be considered definitive because vaccine type was not randomized.
Source: Renal & Urology News
New Kidney Research Initiatives Unveiled at Capitol Hill Summit
The summit, hosted by the Congressional Kidney Care Caucus, included an announcement that the American Society of Nephrology and HHS will commit $2,625,000 to one of the initiatives—a prize competition that challenges the public to create better treatment options for kidney failure.
Source: Nephrology News & Issues
Home Hemodialysis May Offer Better Survival Odds than In-Center Hemodialysis
The more frequent dialysis sessions associated with home hemodialysis are associated with better first-year survival odds than in-center hemodialysis for patients new to dialysis, according to results presented at Kidney Week. Researchers found the one-year survival rate for home hemodialysis was 91.7 percent, compared to 81.4 percent for in-center hemodialysis.
Source: Renal & Urology News