Kidney Care News: Outset Medical Appoints New Chief Financial Officer
Outset Medical Appoints New Chief Financial Officer
Rebecca Chambers is the company's new CFO. Prior to joining Outset Medical, Chambers worked at Illumina Inc.
Source: Nephrology News & Issues
FDA Grants Breakthrough Device Designation to RenalytixAI's AI-enabled Diagnostic for Kidney Disease
RenalytixAI's device, known as the KidneyIntelX, is the first device of its kind to receive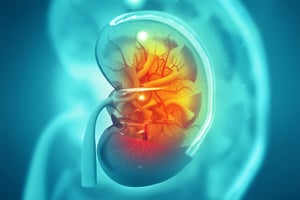 the Breakthrough Device designation from the U.S. Food and Drug Administration. The device is meant to diagnose and improve the clinical management of patients with Type 2 diabetes and quickly progressing kidney disease.
Source: Nephrology News & Issues
More Advanced Chronic Kidney Disease Linked to Greater Risk of Anemia
As chronic kidney disease (CKD) advances, so do anemia risks, new findings suggest. Researchers followed 55,940 patients with newly progressed CKD in Stages 3 to 5 and found within one year that anemia developed in 36 percent of patients with CKD Stage 3a. Within five years, the number of patients with anemia increased to 62 percent.
Source: Renal & Urology News
Employment in the Last 6 Months Before Hemodialysis Associated with Better Survival
Researchers found those patients who were made redundant prior to hemodialysis initiation was associated with mortality. Those patients who continued to work, however, had a lower death rate and were more likely to receive a transplant. Study authors cautioned there needs to be care taken in the interpretation of the data because it's not clear whether the survival benefit was due to the positive effect of employment or if unemployed patients died at a faster rate because they had been sicker before hemodialysis.
Source: RenalWeb - Clinical Kidney Journal
One-Fifth of Surgeons Still Overusing AV Graft (AVG) to Create Dialysis Access
A study from Johns Hopkins found 1 in 5 U.S. surgeons continue to use the AVG procedure to create vascular accesses despite the fact that creating an arteriovenous fistula (AVF) procedure proves safer. The study found those surgeons who performed higher numbers of AVG procedures were more experienced, were located in a metropolitan settings and specialized in vascular surgery rather than general surgery.
Source: RenalWeb - JAMA
Signature HealthCARE Collaborates with Dialyze Direct
The collaboration will provide on-site hemodialysis for patients with end-stage renal disease (ESRD) who reside in short or long-term rehab facilities. Dialyze Direct offers shorter, more frequent in-center treatment and Signature HealthCARE hopes the partnership will improve quality of life and lower stress and costs for patients.
Source: Nephrology News & Issues