New ICE Rule Can Have Negative Impact on Kidney Patients
U.S. Immigration and Customs Enforcement (ICE) published a proposed rule "Establishing a Fixed Time Period of Admission and an Extension of Stay Procedure for Nonimmigrant Academic Students, Exchange Visitors, and Representatives of Foreign Information Media."
The rule eliminates the "'duration of status' as an authorized period of stay for certain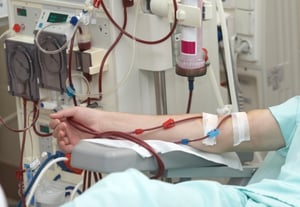 nonimmigrant visas (F, I and J) and replaces it with a specific end date and a requirement to apply through the U.S. government each year to extend this date," according to American Society of Nephrology (ASN).
The F, I and J visas are as follows:
F academic student
J exchange visitor
I representatives of foreign information media nonimmigrant categories
While cases of kidney disease continue to rise in the United States, nephrology residents are in short supply. About 50% of U.S. nephrologists are graduates of international medical schools. Not only do these physicians provide critical care to kidney patients, but they also work to provide care on the front lines of the COVID-19 pandemic.
In response to the proposed ICE rule, ASN noted that the rule "will have a chilling effect on the nephrology clinical and scientific workforce in the United States and would negatively affect access to care for the more than 37 million Americans living with kidney diseases."
Because of the high percentage of U.S. nephrologists coming from international medical schools, the ASN points out that if the rule were in place, it will disrupt the care for those living with kidney diseases and negatively impact the nephrology workforce.
"The training of J-1 clinicians and scientists, the most common visa classification used by foreign national clinicians and scientists to participate in U.S. graduate medical education, will be significantly disrupted by this proposed rule and, in effect, the high quality of patient care they provide and research they conduct will be diminished. U.S. teaching hospitals and research institutions attract clinicians and scientists from around the globe because of their world-renowned programs and leading educators. There are more than 12,000 highly qualified foreign national physicians currently training at nearly 750 teaching hospitals across the United States on J-1 visa status, and these physicians are providing critical care in our nation's teaching hospitals and fighting the COVID-19 pandemic on the front lines. Moreover, the proposed rule's impact on J-1 scientists will cripple the nation's research capacity as it attempts to address the COVID-19 pandemic," writes Dr. Anupam Agarwal, MD, FASN President of ASN.
As a result, the ASN requests that ICE exclude J-1 clinicians and scientists from the proposed rule and eliminate the "duration of status."
"If ICE finalizes the rule as proposed, the delivery of care at academic and community hospitals across the nation, and the nation's research capacity will change for the worse. Moreover, with this rule, the supply of highly qualified clinicians and scientists in the United States will decline precipitously. Millions of Americans, including the more than 37 million with kidney diseases, will suffer unnecessarily," Dr. Agarwal wrote.