Patients Denied Organ Transplant Based on COVID Vaccine Status
Studies have shown that transplant patients who do not receive the COVID-19 vaccine are much more likely to die if they contract the virus. As a result, UCHealth, a hospital system based in Colorado has announced it will not provide transplants to patients who do not receive the COVID-19 vaccine.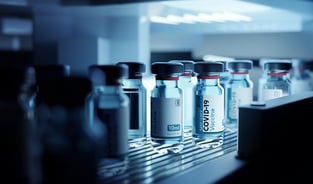 UCHealth's decision was put into the spotlight after patient Leilani Lutali told a news station she was denied a kidney transplant because she did not get the vaccine.
The Ethics of Denying Transplant due to Vaccine Status
Patients undergoing solid organ transplants are encouraged (and at times required) to get several vaccines often on an accelerated timeline. That's because transplant patients are more likely to succumb to the effects of an illness for which they are unvaccinated. The United Network of Organ Sharing (UNOS) doesn't create requirements for whether a patient can be listed on or unlisted from the transplant registry. The decision to allow or deny transplantation is up to the transplant center itself, according to UNOS.
Despite the higher risk of severe disease and death, there have been rising numbers of patients with vaccine hesitancy.
Many patients refuse vaccinations based on philosophical or religious reasons, or the belief that vaccines are unnecessary.
Arguments in Support of and Against Denying Transplant Based on Vaccine Status
Arguments in support of denying transplant in patients who are unvaccinated include:
Protection from vaccine-preventable illness. Transplant patients are at an increased risk of contracting vaccine-preventable illnesses and having more severe side effects.
Protects other transplant patients and staff
Maximizes benefits of organ transplantation
Arguments against restricting transplant in the unvaccinated include:
The patient-physician relationship can be damaged if a patient is coerced into getting vaccinated
It creates additional barriers to transplantation
Inability to access transplant due to vaccination status could have severe effects on the patient
"The ethical frameworks of beneficence and utility provide the justification for denying solid organ transplantation on the basis of vaccine refusal. Risks to the graft, the patient, other patients in the clinical environment, the transplant program, and society should all be considered," write Oliva S. Kates, et al in the American Journal of Transplantation.
Best Practices for Working with Unvaccinated Transplant Patients
Kates, et al, recommend the following when working with unvaccinated transplant patients:
Infectious disease should evaluate patients before transplant
The transplant team should counsel patients on the benefit of vaccination before and after transplant
Close contacts of patients should receive all necessary vaccines before the procedure to protect the patient
Transplant patients should limit contact with unvaccinated people and if around unvaccinated people, should wear a mask
Ultimately, what needs to happen, according to Kates, et al, is a well-defined policy that both reinforces the importance of vaccination before transplantation and helps to guide discussions between patients and providers.