Prescription Drug Coverage for Persons with CKD - 2018
(Gleaned from the 2018 USRDS Annual Data Report: Volume 1, Chapter 8: www.usrds.org)
Pharmaceutical therapy serves as a critical part of CKD treatment in order to control and reduce complications and delay the progression of the disease. Therefore, a new chapter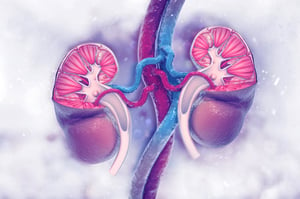 about prescription drug coverage to persons with chronic kidney disease (CKD) was added to the USRDS 2018 Annual Data Report (ADR), particularly in light of the continuing prescription opioid epidemic.
Highlights:
Approximately 73.7% of chronic kidney disease (CKD) patients enrolled in Medicare Part D in 2016, which was slightly higher than general Medicare enrollment at 69.5%.
As compared to White beneficiaries (29.3%), much higher proportions of Asian (73.8%) and African American (62.8%) CKD Part D beneficiaries qualified for the Low-Income Subsidy LIS).
Among patients with stand-alone Part D Medicare plans, per person per year (PPPY) insurance spending on prescriptions was 1.6 times higher for Medicare patients with CKD ($4,941) than for general beneficiaries ($3,027) in 2016.
Total spending for Part D-covered medications in 2016 was more than twice as high for patients with the LIS than for those without, regardless of the presence of CKD. Patient out-of-pocket costs for LIS patients represented only a 1.2% to 1.3% share of these total expenditures, as compared to 25.3% to 27.0% in each of the non-LIS populations.
Prescriptions for lipid-lowering agents, antibacterials, renin-angiotensin-aldosterone system inhibitors, and β-adrenergic blocking agents (beta blockers) were each filled by more than 50% of Medicare CKD patients during 2016 CKD patients with Medicare Advantage and managed care coverage showed similar patterns of use for these drug classes.
By drug class, the highest medication expenditures for patients with CKD were for antidiabetic agents, followed by antineoplastic agents, antivirals and lipid-lowering agents.