Process of Care, Part II: The Impact of Proposed KDOQI Guidelines
Dialysis facilities typically open early in the morning Monday to Saturday. The first shift of patients must get their treatments initiated to prevent delays for the later patient shifts. Commonly, limited licensed nursing staff is on duty to perform any needed early morning assessments. The One Minute Check has now been shortened to 10 seconds in some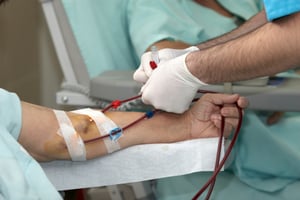 facilities in order to save time. Once the needles are placed, it is not safe to perform the check or a higher-level expert examination. Typically, the nephrologist and advance practice team members see dialysis patients once they are on their way to treatment. They may be able to assess later shift patients before their needles are inserted. However, routine process of care makes it very difficult for nephrologists to fully assess the AVF or AVG with an expert-level physical exam detailed in the current draft of the KDOQI Guideline updates.
Access surveillance is performed after a dialysis treatment is initiated. Surveillance can be used as needed when an AVF or AVG has an abnormal physical examination or One Minute Check "Stop" finding. Past KDOQI Guidelines recommended monthly routine surveillance so trending could show a downward change in flow that might indicate stenosis. Monitoring and surveillance go hand-in-hand to help fully assess the access function.
A major concern with the proposed changes to the monitoring and surveillance sections of the KDOQI have to do with the process of care.
If a 10-second check is being used predialysis to save time, will early indications of access dysfunction be properly identified? If not, and the needles are placed, the larger team is unable to repeat any additional or expert level examination.
With the current issue of high staff turnover, how will the competency be maintained so the checks are being performed properly?
How will the nephrologists and their supporting advance practice personnel meet the need for more access assessments?
If monitoring is not performed at the correct time points or not performed correctly, then no early warning will be triggered without routine surveillance.
Without routine surveillance how will a spot check be interpreted without trending?
Proposed 2019 KDOQI VA Guidelines are now open for public review. Please review the guidelines and assess the impact on the process of care for yourself. Now is the time to voice your concerns!