Why Surveillance is Important –Checks for Cardiac Overload
"The ability to monitor cardiac output is one of the important cornerstones of hemodynamic assessment ...in particular in patients with pre-existing cardiovascular comorbidities."1
Mortality rates of cardiovascular disease patients on hemodialysis are approximately 30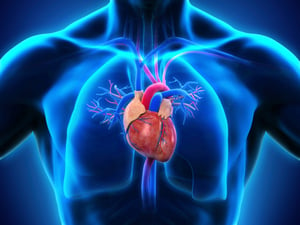 times that of the general population. Cardiovascular disease (CVD) accounts for half of the deaths and one-third of hospitalizations of these dialysis patients. Their congestive heart failure results from cardiac overload, anemia, severe hypertension and cardiac dysfunction due to the rapid removal of large volumes of fluid during hemodialysis that severely tests the limits of a patient's cardiac function, which can change dramatically during a hemodialysis treatment.2-5
Moreover, the vascular access can also be a source of cardiac dysfunction. By bypassing the customary arteriole/capillary beds and establishing a direct high-flow connection between the arterial and venous systems, an AV access causes a precipitous drop in peripheral arterial resistance, which significantly affects blood flow. In order to maintain blood pressure and improve cardiac output, the body compensates for this immediate drop in resistance by increasing heart rate and stroke volume.3,5
With a simple bolus injection of saline, the Transonic Hemodialysis Monitor is able to provide a quantitative measurement of a dialysis patient's cardiac output. Other important parameters such as cardiac index are derived from the measurement.
These measurements during hemodialysis monitor a heart's response the stress of hemodialysis and can foreshadow critical cardiac issues.5,6
References:
1 Tucker T et al, "Central Hemodynamic Profiling (CHP) during Outpatient Hemodialysis (HD)," J Am Soc of Nephrol Abstr 2002; 13: 209A. (Transonic Reference # HD268A)
2 Cardiovascular Disease - An ESRD Epidemic. Am J Kid Dis 1998; 32(5): Suppl 3.
3 MacRae JM et al, "The Cardiovascular Effects of Arteriovenous Fistulas in Chronic Kidney Disease: A Cause for Concern?" Sem in Dialysis 2006; 19(15): 349-352. (Transonic Reference # HD7337A)
4 Locatelli F et al, "Cardiovascular Disease in Chronic Renal Failure; the Challenge Continues," Nephrol Dial Transplant 2000; 15(Suppl 5): 69-80. (Transonic Reference # HD9643R)
5 Hemodialysis Handbook DL-1-hb, Rev B, 2015, Transonic Systems Inc.
6 Krivitski NM, Depner, TA, "Cardiac Output and Central Blood Volume during, Hemodialysis: Methodology," Adv Ren Replace Ther 1999; 6(3): 225-232. (Transonic Reference # HD8T)