Telemedicine Use in Dialysis: What to Know
Since the beginning of the COVID-19 outbreak, CMS has allowed nephrology practices to use telehealth devices to conduct visits with dialysis patients. Previously, telehealth services were reserved for those dialysis patients receiving treatment at home. The decision, announced in March, allows nephrology practices to bill for the same monthly payments for visits, but the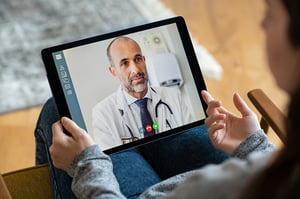 nephrologist is required to make an in-person visit with the patient once a month in an office or dialysis clinic.
Three Types of Telehealth Supported by CMS
Medicare supports three types of telehealth services: Telehealth visits, virtual check-ins, and e-visits.
CMS defines these services as follows:
Telehealth visit: A visit with a provider that uses telecommunication systems between provider and patient.
Virtual check-in: A 5-10 minute check-in with a patient via telephone or other telecommunications device to decide whether an office visit is needed.
The list of approved telehealth services, according to the Renal Physicians Association (RPA) include:
Individual and group kidney disease education services
All outpatient dialysis services, in-center and home, adult and pediatric, monthly and daily with the exception of the single visit monthly dialysis codes for all ages
Transitional care management services
Here's what else you should know about CMS's additional flexibilities:
Ability to delay some patient assessments: CMS is waiving certain requirements related to the frequency of assessments for patients admitted to a dialysis facility. According to CMS, this new waiver allows Medicare to "pay for office, hospital, and other visits furnished via telehealth across the country and including in patient's places of residence starting March 6, 2020."
CMS is specifically waiving the following requirements: §494.80(b) (1): An initial comprehensive assessment must be conducted on all new patients (that is, all admissions to a dialysis facility), within the latter of 30 calendar days or 13 outpatient hemodialysis sessions beginning with the first outpatient dialysis session. o §494.80(b) (2): A follow up comprehensive reassessment must occur within 3 months after the completion of the initial assessment to provide information to adjust the patient's plan of care specified in §494.90.
Emergency preparedness: During the pandemic, ESRD facilities no longer have to demonstrate that staff can maintain CPR certification. This requirement is being waived because of the limited availability of CPR classes during COVID-19.
Telehealth: CMS is modifying two telehealthcare requirements during the pandemic. "CMS is modifying the requirement which requires the dialysis facility to implement the initial plan of care within the latter of 30 calendar days after admission to the dialysis facility or 13 outpatient hemodialysis sessions beginning with the first outpatient dialysis session. This modification will also apply to the requirement for monthly or annual updates of the plan of care within 15 days of the completion of the additional patient assessments. CMS is waiving the time requirement for plan of care implementation during the time period of the national emergency," according to CMS.
Additionally, the requirement that every dialysis patient is seen by a physician, nurse practitioner, clinical nurse specialist, or physician's assistant providing ESRD care at least monthly has been modified. If the patient is considered stable, they do not have to be seen monthly during the pandemic. The use of telehealth technologies for ensuring patient safety is recommended here.