Transonic HD Measurements Included in Core Curriculum's 6th Edition for the Dialysis Technician
More than 650,000 persons in the U.S. and more than 2,000,000 worldwide have end stage renal disease. Though dialysis basics were said to have been founded thousands of years ago, modern dialysis now gives the more than 468,000 persons in the United States who are on dialysis an opportunity to live more normal and productive lives.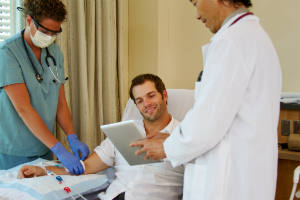 To keep dialysis technicians and nurses up to date on the latest ways to provide quality care for people with kidney disease, a non-profit Medical Education Institute spends one full year out of every five to update a comprehensive review of hemodialysis for the dialysis technician. The fundamental goal of the Core Curriculum for the Dialysis Technician is to provide excellence in care for patients living with kidney disease. Nephrology nurses and certified dialysis technicians, in particular, seek to provide safe, effective dialysis that enables their patients to enjoy their lives to the fullest extent.
Included in this sixth edition, beginning on page 182, is an explanation of vascular access monitoring (physical examination of an access by looking, listening and feeling) and surveillance (the periodic evaluation of a vascular access with tests that may involve special devices such as the Transonic Hemodialysis Monitor). It reiterates that KDOQI guidelines say that clinics should have a surveillance program. On the next two pages, 183 and 184, is a table listing measurements by the Transonic Hemodialysis Monitor that includes: What It Measures, How It Works; Staff Time Needed; Disposables Needed; and What the Results Mean.
Transonic is a proud gold sponsor that lent unrestricted educational grant support for this Core Curriculum's sixth edition.