Trial Finds Transonic Surveillance Reduces Rate of Thromboses & Costs
"I love this machine!" exclaimed Dr. Inés Aragoncillo when a slide displaying the Transonic Hemodialysis Monitor, was shown at the recent American Association of Nephrology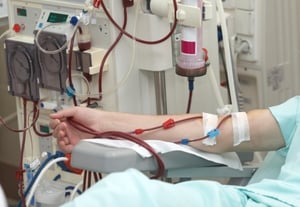 (ASN) convention in Chicago. Dr. Aragoncillo was presenting the findings of her three-year RCT in which she and her colleagues studied the addition of ultrasound Doppler and ultrasound dilution (Transonic) surveillance to classic vascular access monitoring in their hemodialysis patients.
The Spanish clinicians conducted the controlled, multicenter, trial because the hemodialysis literature was not clear about whether surveillance, based on vascular access blood flow, actually enhanced the function and longevity of arteriovenous fistulas (AVFs). They wanted to know definitively whether measurement of flow could reduce thrombosis, increase thrombosis-free and secondary patency in arteriovenous fistulas, and reduce vascular access-associated costs.
The results of the study entitled, "Adding access blood flow surveillance reduces thrombosis and improves arteriovenous fistula patency: a randomized controlled trial," is now published in the July 2017 issue of the Journal of Vascular Access. Two hundred and seven patients, drawn from nine Madrid hospitals, were included in the study. They were randomized into two groups: one with 103 patients had classic monitoring of their AVFs every three months augmented by vascular access flow measurements with Doppler ultrasound and Transonic ultrasound dilution technologies; a second control group with 104 patients did not have flow surveillance added their quarterly AVF monitoring.
At the end of the three years, the Transonic surveillance group displayed significantly fewer thromboses compared to the control group: (0.025 versus 0.086 thrombosis/patient/year). They also showed a significant improvement in their thrombosis-free patency rate and in their secondary patency rate compared to the control group. No differences were seen in the non-assisted primary patency rate between the two groups.
There was a greater need for infection-prone central venous catheters and more hospital admissions in the control group compared to the surveillance group. Moreover, vascular access-related costs were considerably lower (42%) in the surveillance group than in the control group.
From their study, the clinicians concluded that flow-based surveillance combining Doppler ultrasound and ultrasound dilution reduces the frequency of thrombosis, is cost effective, and improves thrombosis free and secondary patency in autologous arteriovenous fistulas.
Aragoncillo I et al, "Adding access blood flow surveillance reduces thrombosis and improves arteriovenous fistula patency: a randomized controlled trial," J Vasc Access. 2017; 18(4): 352-358. (Transonic Reference # HD11190AH)
Tessitore N et al, "Can blood flow surveillance and pre-emptive repair of subclinical stenosis prolong the useful life of arteriovenous fistulae? A randomized controlled study," Nephrol Dial Transplant 2004; 19: 2325-2333. (Transonic Reference # HD407AH)