UK Questionnaire Seeks Insight on Hemodialysis Patient Satisfaction
An end-stage-renal-disease (ESRD) patient's vascular access is a constant reminder that they have a life threatening disease and must rely on dialysis to live. Their access is their link to life. However, all types of vascular accesses, be they arteriovenous fistulas (AVFs), prosthetic grafts (AVGs), or central venous catheters (CVCs) require maintenance and have complications that can impact a patient's overall quality of life.
In order to improve their quality of care, a study was undertaken by United Kingdom (UK) clinicians to find out more about the impact of hemodialysis on an ESRD patient's perception of their treatment and their quality of life.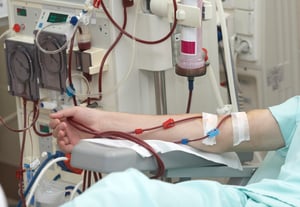 A multi-ethnic dialysis population of 749 patients from 10 chronic hemodialysis centers in the UK Midlands were interviewed between April 2017 and April 2018 using a Vascular Access Questionnaire (VAQ) consisting of 17 vascular access related questions. Seven hundred forty-nine or 81.4% of 920 potentially eligible patients completed the survey. The median age of the 749 patients was 65; 57.8% were male, and 49.3% were Caucasian. The median length of time that a participant was on dialysis was three years. Seventy-two percent had an arteriovenous fistula (AVF).
Highlights of the findings included:
Access Satisfaction: Satisfaction with the one's current access and its ease of use resulted in significantly better scores.
Type of Vascular Access: Patients with AVFs were more satisfied than those with other types of access and no significant differences were detected between the anatomical locations of an access. Clotting scores were lowest in patients with AVFs. Patients with CVCs scored significantly worse than those with AVFs. However, comparisons among the types of vascular access showed significant differences for bleeding, bruising and swelling, for which the lowest scores were with CVCs. Significant differences in redness and infection also were found, both of which were highest with CVC.
Duration of Access: A VAQ score improved significantly with the duration of an access from less than one month to over a year.
Angioplasty: AVF, AVG patients who had a radiology intervention in the previous year had significantly worse scores.
Previous CVCs: Those that had multiple CVCs were associated with significantly worse VAQ scores. Patients with six or more previous CVCs had significantly worse scores for clotting concerns, as well as for problems sleeping, protecting their access and dialysis interference with leisure activities. They also scored significantly worse than those with fewer previous CVCs with regards to worrying that the treatment is working well, how long the access would last, and hospitalization.
Ethnicity: Asian patients had significantly better scores than patients of either White or Black ethnicity.
Age: Younger patients had worse VAQ score. Appearance of an access became significantly less important with age.
Gender: Females also scored significantly worse on the questions relating to appearance, problems sleeping, and worries about hospitalization and how long the access would last.
Disease History: Patients with a history of cardiac or peripheral vascular disease had significantly worse VAQ scores.
The investigators concluded that overall, patients are satisfied with their access and are acutely aware of the critical role it plays in their renal disease management. Mean scores improved significantly with age and the duration of access. Better average scores were demonstrated for arteriovenous fistulas (AVF) than for arteriovenous grafts or central venous catheters.
Reference
Field M, Khawaja AZ, Ellis J, Nieto T, Hodson J, Inston N, "The vascular access questionnaire: a single centre UK experience," Nephrol. 2019 Aug 5;20(1):299. (Transonic Reference # HD11576R)